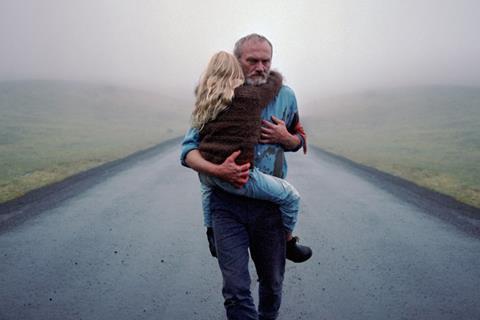 The three Icelandic films presented at Goteborg's Works In Progress were some of the most buzzed about by festival programmers and buyers.
Runar Runarsson's Echo is a stylistic departure for the Volcano and Sparrows director. He paints a portrait of contemporary society by presenting 59 difference scenes, in a mix of fiction and documentary. Jour2Fete handles sales.
The County will mark Grimur Hakonarson's follow-up to his international hit Rams. The film, previously pitched at Les Arcs' works in progress, is about a middle-aged dairy farmer who battles local corruption after her husband dies. As with Rams, Grimar Jonsson's Netop Films produces and New Europe handles sales.
Another hot Icelandic project on New Europe's slate is Hlynur Palmason's A White, White Day, produced by Anton Mani Svansson for Join Motion Pictures. One of Iceland's top actors, Ingvar E Sigurdsson, stars as a police chief who finds out secrets about his late wife. Palmason previously directed Locarno 2017 award-winner Winter Brothers.
Other than the Icelandic films, industry attendees were most impressed by footage from Swedish director Jesper Ganslandt's 438 Days. The film, produced by Miso Film and sold by SF Studios, is based on the true story of two Swedish journalists who were captured by the Ethiopian Army in 2011.
Highlights also included Jesper W. Nielsen's Danish female-centric psychological thriller The Exception; Mikael Hafstrom's Swedish serial killer drama The Perfect Patient; and Fenar Ahmad's Nordic mythology inspired Valhalla.
Full list of WIPs below.
Two hot projects in development, both pitched in Goteborg's Discovery session, include The Square producers Plattform with Simon Vahlne's debut feature, dark comedy Entreprenör. The film will shoot starting this summer. Producer Axel Danielsson said Vahlne – whose short Fight On A Swedish Beach was in Cannes 2016 – "has a unique sense of humour and a true interest in contemporary society."
John Ajvide Lindqvist, whose novels have inspired Let The Right One In and Border, is now writing the script for Handling The Undead, the second feature by Thea Hvistendahl. Hvistendahl said the film, about people in Oslo who come back from the dead, is "a magical realist film about love and accepting the inevitable."
Goteborg works in progress 2019
438 Days, dir Jesper Ganslandt, Miso Film (Swe) sales: SF Studios
The County, dir Grímur Hákonarson, Netop Films (Ice) sales: New Europe
Disco, dir Jorunn Myklebust Syversen, Mer Film (Nor)
Dogs Don't Wear Pants, dir J.P. Valkeapää, Helsinki Filmi (Fin)
The Domestique, dir Jannicke Systad Jacobsen, Ape & Björn (Nor)
Echo, dir Rúnar Rúnarsson, Nimbus Iceland (Ice) sales: Jour2Fete
The Exception, dir Jesper W. Nielsen, Fridthjof Film (Den) sales: LevelK
Heavy Load, dir Magnus Millang, Miso Film (Den)
My Life as a Comedian, dir Rojda Sekersöz, Anagram (Swe) sales: The Yellow Affair
The Perfect Patient, dir Mikael Håfström, Brain Academy (Swe) sales: TrustNordisk
A Perfectly Normal Family, dir Malou Reymann, Nordisk Film (Den)
A Piece of My Heart, dir Edward af Sillén, Unlimited Stories, sales: Picture Tree (Swe)
The Spy, dir Jens Jonsson, 4 ½ (Nor)
Valhalla, dir Fenar Ahmed, Profile Pictures (Den) sales: TrustNordisk
A White, White Day, dir Hlynur Pálmason, Join Motion Pictures (Ice) sales: New Europe
Goteborg Discovery 2019
After Work, dirs Frans Huhta & Jonas Eskilsson, Fasas & Xyfilm (Swe)
Entreprenör, dir Simon Vahlne, Plattform (Swe)
Handling The Undead, dir Thea Hvinstendahl, Einar Drama (Nor)
Human Resources, dir Elisabeth Marjanovic Cronvall, MDEMC (Swe)
Resistance, dir E Caj Cojoc, Mer Film (Nor)
Scenes From A Dying Town, dir Kaisa El Ramly, Inland Film Company (Fin)
The Nation, dir Anton Kallrot, Ogat Film (Swe)
The Quiet Migration, dir Malene Choi Jensen, Manna Film (Den)
The Store, dir Hanna Skold, Tangram Film (Swe)
Where The Crows Turn, dir Lisa Jespersen, Hyaene Film (Den)