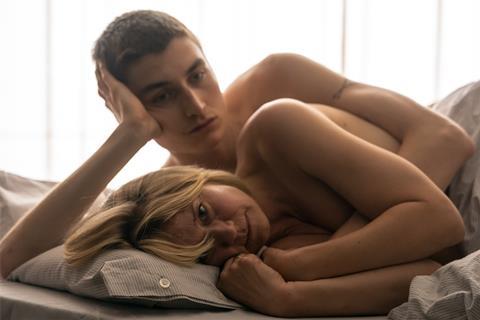 May el-Toukhy's Danish drama Queen Of Hearts has won Goteborg's Dragon Award for Best Nordic Film.
The cash award of $110,000 (1m SEK) makes it the world's most lucrative film prize. The prize is financed by Presenting partner Volvo Car Group alongsie Region Västra Götaland and the City Council of Gothenburg.
The jury included directors Adina Pintilie, Jyoti Mistry and Dominga Sotomayor, author Hanne-Vibeke Holst and Nick James, editor of Sight & Sound.
They said Queen Of Hearts "is a many-layered film that challenges our preconceptions about the moral ad sexual forces at play within a seemingly normal well off family. It portrays the sexuality and desires of that neglected subject of cinema, a middle-aged woman, with immense sensitivity. It takes us down the rabbit hole of our hidden human needs and reveals its characters in all their rich and dark complexity."
Trine Dyrholm stars as a woman who embarks on a dangerous affair with her stepson (played by Sweden's Gustav Lindh). Queen Of Hearts won the audience prize (world cinema dramatic) at Sundance and also screened at Rotterdam before making its Nordic premiere in Goteborg.
Dyrholm also won Goteborg's new gender-neutral prize for best acting. The jury said she "gives a powerful performance of astonishing versatility and craft playing a character used to the moral high ground, but who is not the paragon of virtue everyone believes her to be. With great courage the actor lays bare a complex woman discovering needs she has repressed for years and can no longer resist, no matter how destructive they are."
Queen Of Hearts scored a hat trick by also winning the audience award.
The Eurimages-backed Audentia Award for a female filmmaker, presented in Goteborg for the first time, went to Lucky One by Mia Engberg.
The Dragon Award for Best Nordic Documentary went to Anna Eborn for Transnistra (which a day earlier had won Rotterdam's VPRO Big Screen Award). Chimney is the presenting sponsor and backs the $28,000 (SEK 250,000 prize).
The Ingmar Bergman Award for an international debut film went to A Family Submerged by María Alché.
The Sven Nykvist prize, awarded to a cinematographer, went to Ita Zbroniec-Zajt for Season.
The Best International film award went to Giant Little Ones by Keith Behrman.
The FIPRESCI Award went to Tuva Novotny for Blind Spot.
Prizes previously announced during Goteborg include:
Nordic Honorary Dragon Award: Mads Mikkelsen
Dragon Award Best Swedish Short: Who Talks by Elin Övergaard
Audience Award for Best Swedish Short: Sorry Not Sorry by Julia Thelin
Angelo Award: Victor Lindgren for The Unpromised Land
Mai Zetterling Artist Foundation Stipend, worth $22,000 (SEK 200,000): Marcus Lindeen
Håkon Liu grant, worth $1,655 (15,000 SEK): Gabriela Pichler.
Bonnie stipend: Jimmy Olsson
Nordisk Film & TV Fond Prize: All the Sins writers Mika Ronkainen and Merja Aakko