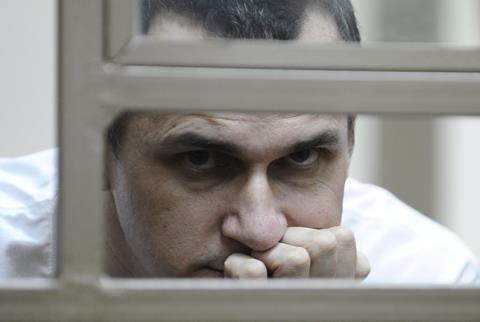 A March 2019 release date has been set for the adaptation of the imprisoned Ukrainian filmmaker Oleg Sentsov's dystopian play Numbers.
Ukrainian filmmaker Sentsov was arrested in May 2014 in connection with alleged activities opposing the annexation of the Crimean Peninsula by Russia, and sentenced by Russian court in August 2015 to 20 years imprisonment. He is currently serving out his sentence in Russia's northernmost prison in Labytnangi, Yamalo-Nemets, and began an indefinite hunger strike on May 14, 2018.
Presenting the Numbers project "out of competition" at this year's Film Industry Office pitching forum at the Odesa International Film Festival, Ukrainian producer Anna Palenchuk of Kyiv-based 435 Films said that shooting on the project is planned for this November.
Palenchuk told Screen that Sentsov had indicated in a letter that he would personally like to direct the film adaptation. If he is not released in time, she said "we will negotiate with him about another film director.
In addition, Palenchuk read out a statement that Sentsov had prepared about the project.
Describing the dystopian plot where men and women are given numbers instead of names, the director said: ¨There is one character who starts posing questions that lead to unexpected consequences and then to the demise of this empty, but non-aggressive world."
International cooperation
Palenchuk was joined on stage for the pitch by the Polish producer Dariusz Jablonski of Message Film.
Jablonski announced: ¨First of all, we want to be creatively involved in Oleg's Numbers and are proposing two outstanding Polish DoPs - Lukasz Zal [of the Oscar-winning Ida and Alexey German Jr.'s Dovlatov] and Michal Englert [Body and In The Name Of] - but this will be Oleg's decision. And we also promise to take care of all of the postproduction to have it ready next March. We want to make the film as he wanted.¨
Jablonski also stressed how time was the essence for this project which is now looking to tap the national funds in Ukraine and Poland to finance the film. The Polish Film Institute was co-producer with Message Film on Askold Kurov's documentary The Trial: The State of Russia Vs. Oleg Sentsov which premiered at the Berlinale last year.
Message Film was the Polish production partner on Dovlatov - showing at this week's New Horizons festival in Wroclaw - and Ukrainian filmmaker Marysia Nikitiuk's When The Trees Fall which both premiered during last February's Berlinale.
The international film community has called on the Putin administration to release Sentsov from prison by sending petitions and holding vigils in front of Russian embassies.
The European Parliament issued a joint motion for a Resolution in June demanding that ¨the Russian authorities immediately and unconditionally release Oleg Sentsov and all other illegally detained Ukrainian citizens in Russia and on the Crimean peninsula."
So far, all these efforts to persuade the Russian authorities to release Sentsov have been to no avail.