Heleen van Royen directs the documentary about her mother's suffering with dementia.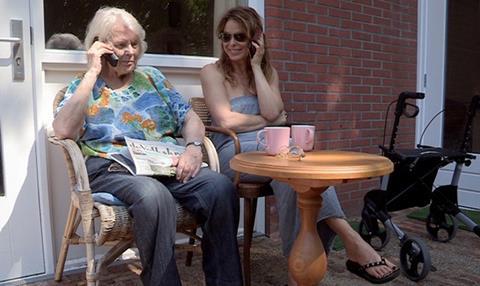 Danielle Raaphorst of Netherlands-based sales company Incredible Film has announced the pick-up of the Dutch feature doc It Hurts So Much for international sales. The film, which premiered at International Film Festival Rotterdam last month, is directed by novelist Heleen van Royen and chronicles the year the writer spent with her aging mother who suffers from dementia.
Also on the Incredible Film European Film Market (EFM) slate is The Fury (market premiere) starring Hannah Hoekstra, a 2017 EFP Shooting Star.
The all-star female drama, for which Hoekstra won best actress awards at both the Montreal International Film Festival and at the Netherlands Film Festival, is based on the best-selling novel by A.F.Th. van der Heijden, and concerns a glamorous and mysterious aunt who, for some reason, is continually furious at everybody and everything.
Incredible also has an EFM market premiere of new family film Storm - Letter Of Fire by Dennis Bots (Cool Kids Don't Cry), made to mark the 500th anniversary of the Reformation. In Storm, 12-year-old Storm is caught up in an exciting adventure when his father (Yorick van Wageningen) uses his presses to print forbidden texts. When an original letter written by Martin Luther is discovered, Storm and his friend Marieke must embark on a fearless fight for freedom – and to save his father from certain execution.
Another Incredible EFM premiere is teen drama Enough! based on the novel by Carry Slee.
The sales company is also handling pre-sales on the historical saga/thriller Red Bad 754 AD, which director Roel Reine will shoot later in 2017.
Meanwhile, Incredible is also handling Adios Amigos, a remake of the award-winning Belgian film Hasta la vista, and romantic comedy Home Is Where Your Heart Is.