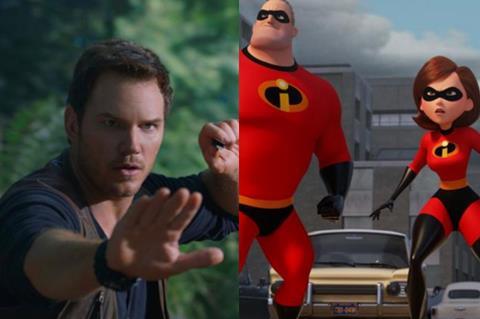 Jurassic World: Fallen Kingdom has reached $604.9m through Universal Pictures International and faces a stiff challenge from Incredibles 2 as its heads into its third weekend.
Universal Pictures International's smash has reached $786m worldwide and is inevitably slowing down, at a time when the Pixar juggernaut, which stands at $156.9m, continues to rumble on in a typical staggered release.
While there are no new markets for the dinosaurs this weekend, executives at Walt Disney Studios Motion Pictures International will look to a strong second session in China for Incredibles 2, and strong debuts in Brazil, Taiwan, Portugal, Belgium and Netherlands.
Meanwhile the thriller Sicario: Day Of The Soldado opens via Lionsgate International in 41 markets including the UK, Australia, France, South Korea, and Russia day-and-date with the North America release through Sony.
The 2015 original Sicario grossed $37.9m by the end of its international run. Sony Pictures Releasing International handles the drug cartel thriller starring Benicio del Toro and Josh Brolin in Latin America, Spain, and South Africa.
Universal's adult comedy Blockers has grossed $33.3m and the Blumhouse horror thriller Truth Or Dare stands at $50.8m and infiltrates Hong Kong.
Returning to the Disney fold, Lucasfilm's Solo: A Star Wars Story stands at $152.9m and flies into Japan.
Melissa McCarthy comedy Life Of The Party has grossed an even $10m through Warner Bros Pictures International and ventures into Mexico this weekend. The female-led heist caper Ocean's 8 stands at $80.5m, and the comedy Tag on $3.7m arrives in the UK and Russia.
Fox International's Deadpool 2 stands at $404.6m and opens in Egypt this weekend. Rom-com Love, Simon on $20.1m arrives in the UK, Germany, France and South Africa besides several others.
Paramount Pictures International's Sherlock Gnomes has reached $44.5m, and horror smash A Quiet Place is on $142m.