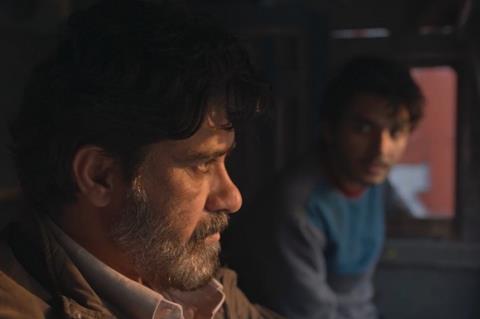 Ivan Ayr's Milestone was named best film at the Silver Screen Awards, which closed the 31st Singapore International Film Festival (SGIFF) on Sunday (December 6).
The Indian drama, which premiered in Venice Horizons in September, also won the best performance award for Suvinder Vicky's turn as an ageing Punjabi trucker who must keep his life's work from falling apart.
It marks Ayr's second feature after Delhi crime drama Soni, which also debuted in Horizons in 2018. Milestone has also played Pingyao and Stockholm film festivals.
The jury included filmmakers João Pedro Rodrigues, Mary Stephen, Mouly Surya and John Torres who praised Vicky's performance as "full of emotion but held together with a beautifully restrained quality".
The best director award went to Georgian filmmaker Dea Kulumbegashvili, whose debut feature Beginning was described by the jury "as a beautifully crafted piece that demonstrates an exceptionally strong voice from a debut director".
Set in a remote Georgian town, the film examines the extreme isolation of a woman's suffering and previously won four awards at San Sebastian including the Golden Shell for best film. It is also Georgia's entry for the Oscars.
SGIFF announced the winners online. Instead of the traditional physical ceremony, this year's Silver Screen Awards was a closed-door zoom event for invited VIPs, sponsors, jury and nominated filmmakers. Snippets of the ceremony, including acceptance speeches, will be shared to the public later this week.
Other prizes included the audience choice award, which went to Chew Chia Shao Min and Joant Úbeda's Sementara, a documentary revealing deeply personal stories of people from different walks of life on issues such as religion, race, identity and mortality.
To mark the closing of this year's SGIFF, Milestone and Sementara were re-screened in cinemas on December 6 along with best Southeast Asian short film, Riar Rizaldi's Tellurian Drama, and best Singapore short film, Nelson Yeo's He's Not There.
Due to ongoing social distancing rules, the majority of Singapore's cinema halls can only accommodate up to 80 people. To reach more audiences, SGIFF adopted a hybrid model for its line-up of 72 films.
A total of 65 in-person screenings and 67 online screenings were held during the 11-day festival, which translates to more than 6,600 audience members, while 27 Q&As with 51 directors were conducted. SGIFF is part of the Singapore Media Festival.
Southeast Asia talent
Apart from film screenings, SGIFF organised mentorship programmes for Southeast Asia talent through its Film Academy. The Youth Jury & Critics programme took place in a physical classroom as participants are all from Singapore, with head mentor Chris Fujiwara joining them online. Meanwhile, the Southeast Asian Film Lab, designed for filmmakers embarking on their first feature-length film project, received personal online feedback from mentors Shozo Ichiyama, Nandita Solomon and Mai Meksawan.
To further support filmmaking development in the region, SGIFF is set to expand its production grants for 2021, including the Tan Ean Kiam Foundation - SGIFF Southeast Asian Documentary Grant (SEA-DOC) and the SGIFF Southeast Asian - Short Film Grant (SEA-SHORTS).
Both grants were launched in 2018. This year's SGIFF saw the world premiere of three SEA-DOC grant recipients – Aswang, Citizen Hustler and Ploy – and the screenings of three SEA-SHORTS – Binh, Judy Free and Nursery Rhymes.
SEA-DOC will extend its scope to include post-production documentary projects. From 2021, the grant will support two production projects with a cash amount of S$30,000 ($22,400) and two post-production projects with a cash amount of S$20,000 ($15,000) per recipient. Supported by Singapore- and South Korea-based C47 Investment and Thailand's White Light Post, SEA-SHORTS will double the number of grants from two to four, with each recipient receiving a cash amount of S$4,000 ($3,000) and post-production support worth S$4,000.
Separately, CJ47 Investment has launched a new distribution grant with Singapore-based Momo Film to meet the gap filmmakers often face in distributing their short films. The grant will support up to five short films from Southeast Asia each year, with a cash amount of S$800 ($600) each.
Singapore film festival 2020 winners
Silver Screen Awards: Asian Feature Competition
Best film: Milestone (India) dir. Ivan Ayr
Best director: Dea Kulumbegashvili for Beginning (Georgia, France)
Best performance: Suvinder Vicky for Milestone (India)
Silver Screen Awards: Southeast Asian Short Film Competition
Best Southeast Asian short film: Tellurian Drama (Indonesia) dir. Riar Rizaldi
Best director: Lin Htet Aung for Estate (Myanmar)
Best Singapore short film: Here Is Not There (Singapore) dir. Nelson Yeo
Youth jury prize: The Unseen River (Vietnam, Laos) dir. Phạm Ngọc Lân
Special mention: Red Aninsri; Or, Tiptoeing On The Still Trembling Berlin Wall (Thailand) dir. Ratchapoom Boonbunchachoke
Southeast Asian Film Lab
Most promising project: Baby Jackfruit Baby Guava by Nong Nhat Quang (Vietnam)
Fellowship prize: Tropical Rain, Death-Scented Kiss by Charlotte Hong Bee Her (Singapore)
Youth Jury & Critics
Young critic award: Nicole Wong Kar Mun
Audience choice award: Sementara (Singapore) dirs. Chew Chia Shao Min and Joant Úbeda