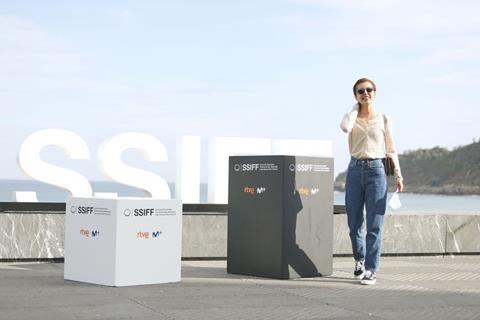 Georgian director Dea Kulumbegashvili's Beginning has won the Golden Shell for best film at the San Sebastián International Film Festival. The film has also been awarded the prizes for best director, best actress for Ia Sukhitashvili, and best screenplay for Kulumbegashvili and co-writer Rati Oneli by a competition jury headed by Luca Guadagnino.
It is the first time a Georgian film has won the Golden Shell.
The Silver Shell for best actor was shared by the four stars of Thomas Vinterberg's Another Round - Mads Mikkelsen, Thomas Bo Larsen, Magnus Millang and Lars Ranthe -who accepted the award online from Copenhagen.
Kulumbegashvili's debut feature is produced by David Zerat, Ilan Amouyal and Rati Oneli and executive produced by Mexico's Carlos Reygadas. It waswas one of 17 titles selected by San Sebastián this year that sported the Cannes 2020 Official Selection label after the French festival was cancelled due to the coronavirus pandemic. Sukhitashvili plays the wife of a Jehovah's Witnesses missionary, in a Georgian town near the border with Azerbaijan. Wild Bunch is handling international sales.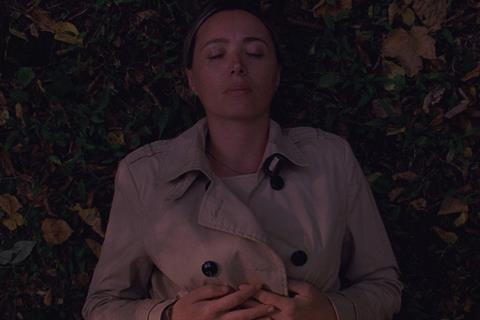 Beginning was one of just three films directed by women in the competition this year. Beyond the competition, there were prizes for Isabel Lamberti in the New Directors section for Last Days Of Spring, a Netherlands-Spain production, while Fernanda Valadez won the Horizontes Latinos award - for films totally or partially produced in Latin America - for Identifying Features, and Catarina Vasconcelos won the Zabaltegi -Tabakalera section with The Metamorphosis Of Birds (Portugal).
Finally, the Special Jury Prize went to Crock Of Gold: A Few Rounds With Shane MacGowan, the documentary directed by Julien Temple and produced by Johnny Depp, about the leader of Irish punk-folk band The Pogues. A film. The jury explained in their statement that the prize was "for Julien Temple and Shane MacGowan for the beautiful, poetic, unflinching and unreconciled punk energy" of the film.
Florian Zeller's The Father, starring Anthony Hopkins and Olivia Colman won the audience award. The audience award for best European film went to Chilean director Maite Alberdi's hybrid docu-drama The Mole Agent, a Chile-US-Germany-Netherlands-Spain co-production, that also deals wiht ageing relative.
Both The Father and The Mole Agent were shown in the Pearls section in San Sebastián, a selection of films from other festivals. Both winners had premiered at Sundance in January.
The festival closed on Saturday September 26 with a screening of Fernando Trueba's Forgotten We'll Be), starring Javier Cámara.
San Sebastian 2020: Full list of winners
Golden Shell For Best Film
Beginning (France-Georgia)
Dir: Dea Kulumbegashvili
Special Jury Prize
Crock Of Gold: A Few Rounds with Shane MacGowan. (UK)
Dir: Julien Temple
Silver Shell For Best Director
Beginning (France-Georgia)
Dir: Dea Kulumbegashvili
Silver Shell For Best Actress
Ia Sukhitashvili for Beginning
Silver Shell For Best Actor
Ex aequo for Mads Mikkelsen, Thomas Bo Larsen, Magnus Millang and Lars Ranthe for Another Round (Denmark-Sweden-Netherlands)
Jury Prize For Best Cinematography
Yuta Tsukinaga for Any Crybabies Around? (Japan)
Jury Prize For Best Screenplay
Dea Kulumbegashvili, Rati Oneli for Beginning
Kutxabank-New Directors Award
Last Days Of Spring (Netherlands-Spain)
Dir: Isabel Lamberti
Special mention
Slow Singing (China)
Dir: Dong Xingyi (China)
Horizontes Award
Identifying Features (Mexico-Spain)
Dir: Fernanda Valadez
Special mention:
One In A Thousand (Argentina-Germany)
Dir: Clarisa Navas
Zabaltegi-Tabakalera Award
The Metamorphosis Of Birds (Portugal)
Dir: Catarina Vasconcelos
Special mention
The Woman Who Ran (South Korea)
Dir: Hong Sang-soo
San Sebastián Audience Award
The Father (UK)
Dir: Florian Zeller
San Sebastián Audience Award for European Films
The Mole Agent (Chile-US- Germany-Netherlands-Spain)
Dir: Maite Alberdi
Irizar Basque Film Award
Ane is Missing (Spain)
Dir: David Perez Sañudo
Special mention
Where is Mikel (Spain)
Dirs; Amaia Merino and Miguel Ángel Llamas
TCM Youth Award
Limbo (UK)
Dir: Ben Sharrock
Fipresci Award
Wuhai (China)
Dir: Zhou Ziyang