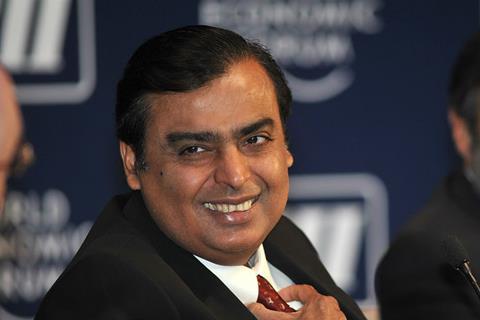 Mukesh Ambani's Reliance Industries has agreed to acquire a 5% stake in major Indian film producer and distributor Eros International.
Reliance Industries is paying $15 per share for its stake in the New York-listed company, representing an 18% premium on the last closing price. The transaction is subject to regulatory and other approvals.
The two companies also announced that they would equally invest up to $150m to jointly produce and acquire Indian films and digital originals across all languages.
In addition, Eros group CEO and managing director Jyoti Deshpande will step down from her executive role after more than 17 years in Eros and move to head Reliance Industries' media and entertainment business as president of the chairman's office.
In her new role, which starts from April 2018, she will build the company's content operations across film, broadcasting, sports, music, digital gaming and animation. She will continue as a non-executive director of Eros, while Kishore Lulla will resume his position as group chairman and CEO.
According to a statement, Deshpande will also "integrate Reliance Industries' existing media investments such as Viacom and Balaji Telefilms with a view to build, scale and consolidate the fragmented $20bn Indian M&E sector."
Reliance Industries operates the Jio 4G telecoms platform, for which it has recently started producing original content. The company's recent investments will also feed content to the service, which provides relatively low-cost data to consumers and has shaken up India's OTT streaming space.
Following the recent acquisition of an additional 1% stake, Reliance Industries is now a majority 51% shareholder in Viacom18, a joint venture between Viacom and Indian broadcaster TV18, which owns film producer-distributor Viacom18 Motion Pictures. It also owns a 25% stake in film and TV production outfit Balaji Telefilms.
Eros is a major producer and international distributor of Indian films across Hindi and regional-language content.
With this new acquisition, Reliance Industries has confirmed its status as a major player in India's media and entertainment sector. Mukesh Ambani is the older brother of Anil Ambani, who previously made aggressive moves into film, TV, cinemas and post-production through his Reliance ADA Group. However, Reliance ADAG has divested most of its media assets in recent years, although it remains an investor in Steven Spielberg's Amblin Partners.
Mukesh Ambani said: "We are pleased to join hands with Eros, as it will bring further synergies into our plans, making for a win-win partnership. We are delighted to welcome Jyoti Deshpande into the Reliance family and believe that she will not only give wings to our plans but also play a pivotal role in transforming the sector."