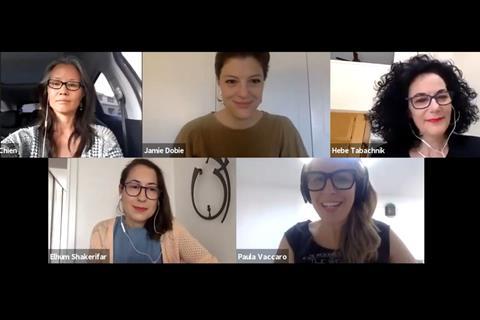 A distribution collective for independent filmmakers could help save a "broken" system, according to a Sarajevo CineLink panel of producers.
Watch the full session below.
US independent producer Karin Chien raised the idea of 500 independent filmmakers each paying $1,000 to become part of a distribution collective that could hire a year-round marketing team, rather than each filmmaker trying to reinvent the wheel with self-distribution for each of their films.
"The ideas I'm thinking of come from a collective model, power in numbers," said Chien, a producer of films including The Exploding Girl and founder of dGenerate, a North American distributor of independent Chinese cinema.
"Power is concentrated with those who hold distribution [rights] – ether that was the studio system or now, the platforms. We've seen more and more consolidation in the past few years. It's concerning… Where does that leave the independent filmmaker?"
Speaking as part of Sarajevo CineLink's Radical New Distribution Strategies webinar, she added: "What can we do so that every filmmaker doesn't have to embark on this year-long journey to get their film to an audience? How do we work together to make that happen as opposed to working against each other or getting that one slot on a platform? We can't just individually confront the consolidation."
Alongside producer Amy Hobby, Chien recently founded Distribution Advocates (https://distributionadvocates.substack.com/), an initiative inspired by medical advocacy that sets out the "Decency in Distribution Manifesto", including points such as data transparency and wariness of all-rights deals.
Growing impact concerns
Impact producer Jamie Dobie of non-profit Peace Is Loud noted that one growing concern in the documentary world is that some distributors - especially the major platforms - are so commercially driven that their contracts might be prohibitive for a film's impact campaign and therefore its eventual social change.
Dobie added that the industry needs to consider greater access to such content as well as audiences who do not subscribe to Netflix or have high-speed internet access.
She highlighted that a new research project about the changing nature of documentary film distribution was being undertaken with the Center for Media and Social Impact at American University.
Breaking the rules
UK-based producer Elhum Shakerifar said she avoids attaching distributors to her documentaries too early, giving the filmmaker space to let the project evolve creatively.
"Distribution of a film is an extension of its storytelling," she said. In one example, she negotiated the rights with UK broadcaster BBC and public funder BFI to include self-distribution plans for Sean McAllister's A Syrian Love Story.
"We broke all the windows and broke all the rules," she said. "We had this insane visibility, 2 million people in the UK saw the film in that first month it was out…that would have been lost if we had given the film to a distributor."
Shakerifar agreed with Chien that collective thinking was a strong proposal. "There is something to build with allyship and community in independent spaces," she said.
Producer, curator and distribution specialist Hebe Tabachnik said there needs to be a rethinking of "why and how we are making films… why are we not thinking about how we get the films in front of people?," especially with productions backed by public funding.
"We need to open our minds and create pathways for the audience to be invested in something we are making," she added.
UK-based producer Paula Vaccaro curated and moderated the panel, which was presented by Sarajevo's CineLink in partnership with Documentary Campus. Screen International is a media partner of CineLink.