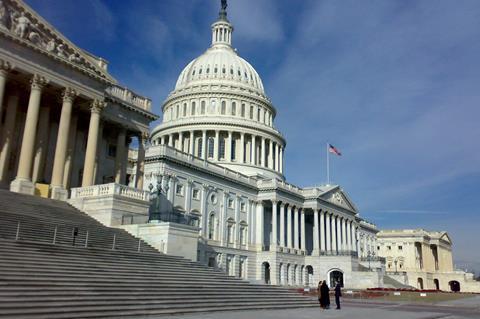 MARCH 27 UPDATE: The Motion Picture Association (MPA) and Writers Guild of America West (WGAW) have welcomed the passage of the $2.2tn stumulus package, which has been approved by the US House of Representatives and ratified by Donald Trump.

Among other measures, the package establishes a $454bn loan guarantee fund enabling theatres to pay fixed costs, enables theatres to defer payroll taxes, and offers up to four months of direct aid to workers through extended unemployment insurance.
In a statement released on Friday, MPA chairman and CEO Charles Rivkin welcomed the latest passage of the Coronavirus Aid, Relief, and Economic Security Act (CARES).
"The ongoing COVID-19 crisis is a threat to the entire global economy, including creative industries. In the United States alone, the film, television, and streaming industry supports 2.5 million jobs and 93,000 small businesses – 87 percent of which employ fewer than 10 people. This bill provides critical relief for independent contractors, freelancers, and small businesses who are the backbone of the entertainment industry and among those whose livelihoods are hardest hit by the current public health crisis. Industry stakeholders, including unions, guilds, and theater owners, worked tirelessly to achieve this important relief."
A statement from the WGAW read: "As the entertainment industry grapples with the devastating impact of COVID-19 and shutdown of production worldwide, the working professionals at its heart have found champions in Congress. The Writers Guild of America West applauds our federal representatives for answering our collective pleas to allow our members access to federal emergency benefits. The CARES Act provides both direct funds and unemployment benefits for entertainment workers who, without this bill, were ineligible for most forms of relief because of the intermittent nature of our work.
On Thursday Scott Cooper, director of the upcoming Antlers and A Head Full Of Ghosts, which just landed at STXfilms, said, "Along with the National Association of Theatre Owners [NATO] and moviegoers the nation over, I applaud the $2.2 trillion Senate aid package meant to ease immediate economic burdens across the country, and to allow movie theatres to cover fixed costs while normal revenue is interrupted. This is a welcome boost of confidence.
Cooper, whose films include Crazy Heart and Black Mass, added: "Any return to normalcy is far off, but this aid package is much-needed positive news to an industry I cherish, and, one, along with so many other industries and citizens, that is suffering. The exhibition of feature films is a vital part of our social life, and one that provides jobs to over 150,000 theater employees, all of whom are unemployed as a result of the closures. We must continue to work together to support an industry that is vital to our cultural and civic life."
On Wednesday NATO welcomed the passage of the package through the Senate, and said the measure would help its constituents look forward to reopening when the coronavirus pandemic passes.
NATO said the measure, the largest aid package every approved by the Congress, would "provide relief to movie theatres their employees and so many other public-facing industries that have had to close their doors due to the COVID-19 pandemic."
The statement came on the day when the largest exhibitor in the US, AMC Theatres, said it was furloughing all 600 of its corporate employees including CEO Adam Aron while the crisis continued. All cinemas in the US have shut down.
The NATO statement appears below.
We applaud the bipartisan agreement reached in the Senate today to provide relief to movie theatres their employees and so many other public-facing industries that have had to close their doors due to the COVID-19 pandemic. With this agreement, movie theatres can look forward with confidence to re-opening and once again serving their communities when this crisis has passed.
While some details remain to be worked out, the broad provisions of the agreement help movie theatres and their workers in so many ways.
A $454 billion loan guarantee fund provides access to capital allowing movie theatres and other businesses to pay their fixed costs while they are unable to generate revenue through normal operations.
Expanded SBA programmes that will allow small businesses – the vast majority of theatre companies – to do the same, with several categories of expenses eligible for loan forgiveness.
Provisions allowing deferral of payroll taxes, expanded opportunity for loss carrybacks for businesses, and technical corrections regarding qualified improvement property.
Employee retention tax credit for businesses that keep people on the payroll despite closures or that see large sales losses.
Up to four months of direct aid to workers through extended and expanded unemployment insurance, including increases in the weekly dollar amount and eligibility for part-time employees.
Advanced tax deductions to workers payable now.
With this aid, movie theaters can get through this crisis confident in being able to re-open, knowing their vital, trained workforce is able to weather this pandemic and have jobs waiting for them when it is safe to reopen.
We are grateful for the work of Congress and the Administration and those, in and out of the entertainment industry who have supported our efforts on behalf of this industry that is so central to our culture and civic life. We look forward to its quick passage in the House and signature by the President.