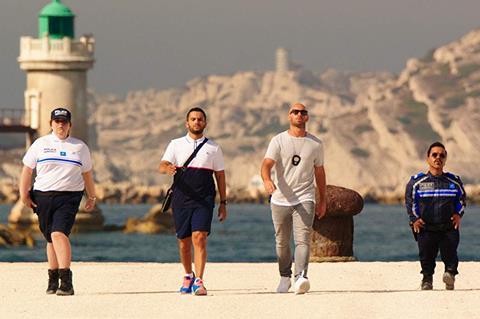 The international box office for French films fell 52% to 40m admissions worldwide in 2018, against 82.5m in 2017, according to figures released by Unifrance on Thursday (January 17).
French cinema export body published the preliminary data at its annual press conference, this year taking place at the Ministry of Culture, on the fringes of its annual Rendez-vous with French Cinema in Paris (January 17-21).
According to the Unifrance numbers, the admissions generated a box office of €237m against €468m the year before. The figures were similar to those of 2016 when there were 34m admissions worldwide.
Unifrance deputy managing director Gilles Renouard said there were two key reasons for the drop in international admissions. Firstly, there was the lack of a big EuropaCorp or Studiocanal English-language mainstream production with an international cast or a successful family-focused animation. (Although the biggest film outside France last year was Taxi 5, a EuropaCorp film, it told a French story with a French cast.)
In 2017, Luc Besson's sci-fi extravaganza Valerian generated 30.4m admissions internationally for EuropaCorp, while Gaumont's Ballerina drew spectators 12.7m.
Secondly, he cited the generally complex and difficult situation for independent cinema worldwide in the face of big US franchises and the platforms.
Behind the numbers

Majority French productions garnered 26m admissions in the international market in 2018, a decline of 58.4% year-on-year. Admissions for French-language films fell less steeply to 24.6m for a 38.2% drop. Six films drew more than 1m spectators internationally in 2018, against seven in 2017.
The top five performers were Taxi 5 (2.4m spectators), C'est La Vie (1.67m), La Chi'tite Family (1.06m), Belle & Sebastien and White Fang. Unifrance did not give figures for the last two titles.
In terms of genre, French comedies and comedy dramas proved the most popular internationally, taking a 31.8% share of the admissions, followed by thriller and adventure features (23.7%), drama (23.1%), animation (7.1%), documentary (5.3%) and historical/biopics (2.5%).
Italy, in a surprising development given the poor overall box office for the territory in 2018, was the top market for French films last year with 3.9 million admissions. English-speaking US and Canada came in second with 3.9m annual admissions, followed by Belgium and Luxembourg (2.9m), Spain (2.9m) and Germany (2.8m).
Regionally, Western Europe remained French cinema's key destination with 17.8m, accounting for 45% of the total admissions, followed by Latin America with 5.8m (14.6%), Central and Eastern Europe with 5.4m (13.7%), North America with 4.5m (11.3%).
Asia, which was the second biggest market in 2017 – in large part to the success of Valerian And The City Of A Thousand Planets, fell to fifth place with 4.4m (11.1%) followed by Oceania with 1.8m (2.7%) and the Middle East with 540,000 (1.4%).
Renouard noted China remained a complex territory to penetrate for French film on a regular basis, mainly due to its quota system for theatrical releases.
Reaction of French sales agents
The French international export scene had been expecting the poor box office figures since September when Unifrance released data for the first eight months of the year, which already showed a fall. Some sales agents are beginning to question whether Unifrance's focus on theatrical admissions still makes sense in the age of streaming platforms as a measure of the performance of French cinema internationally. They also question the inclusion of English-language, Hollywood-style productions in the overall data.
Doc & Film CEO Daniela Elstner, who is also the president of the sales agents body ADEF, said turnover for the export of French-language cinema remained relatively stable year-after-year, in an interview with French specialist publication Satellifax Magazine,
"2018 results have yet to be fully collated but they will be very close to those of 2017, when sales generated some €170m ($193m), and more than 600 French films were released internationally," she said. "We need to remember that independent cinema throughout the world, even that hailing from the US, is undergoing a crisis."
Looking to 2019
French films are expected to appeal to international audiences this year include feature-length animation Asterix: The Secret Of The Magic Potion, comedy Serial Bad Weddings 2 and a slew of family-focused titles including Miniscule 2, Terra Willy and Mia And The White Lion.
The top 10 exporters/sales agents for French cinema by admission
1. Gaumont (C'est La Vie, Belle & Sebastian 3)
2. EuropaCorp (Taxi 5, Miss Sloane)
3. Studiocanal (The Big Bad Wolf And Other Tales, Sink Or Swim)
4. Pathé Films (La Ch'tite Family, Le Brio)
5. Playtime (The Young Karl Marx, Let The Sunshine In)
6. SND (The Jungle Bunch, Just To Be Sure)
7. Wild Bunch (The Sisters Brothers, Climax)
8. mk2 Films (Maria By Callas, The House By The Sea)
9. TF1 Studio (The Extraordinary Journey Of The Fakir, Just A Breath Away)
10. Indie Sales (The Insult, Mademoiselle de Joncquières)