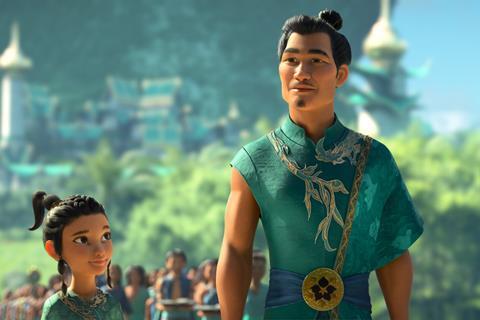 'Raya And The Last Dragon' delivers $8m in international markets
Disney animation Raya And The Last Dragon delivered a strong hold in North America thanks to the reopening of cinemas in California, and also held on decently in international territories. In the domestic market, Raya held on to the box office crown, with a decline of just 5% from the previous weekend. Estimated third-weekend takings of $5.2m take the North America total to $23.4m.
Internationally, box office declined 31%, with takings of $8.0m from 29 markets taking the total to $47.8m. Globally, those numbers combine for a $71.2m total.
Raya enjoyed strong holds in Singapore (+30%), Spain (+23%) and Australia (+1%), and stayed at the top spot in all those territories. It also held robustly in New Zealand (-10%), Hong Kong (-16%) and Vietnam (-26%). The film's only new opening, South Africa, didn't much effect the overall performance, with estimated box office of $100,000.
After three weekends of play, top markets in cumulative totals are China ($7.4m), Russia ($9.1m), Australia ($3.8m), South Korea ($2.3m), Japan ($2.1m), Thailand ($1.6m) and Taiwan ($1.6m).
Raya has no new territory openings this coming weekend. Release dates in key European territories Germany, Italy, France and UK are all to be confirmed.
Raya's $13.2m global take at the weekend was eclipsed by another title for Disney: Avatar. The reissued James Cameron smash took an estimated $14.1m in its second session in China, taking the total there to $44.0m for the rerelease.
Japan and Saudi Arabia openings boost 'Tom And Jerry'
As with Raya And The Last Dragon, California reopenings helped Warner Bros' Tom And Jerry achieve a strong hold in North America, with estimated box office down just 7% from the previous weekend. Meanwhile, new openings in Japan and Saudi Arabia pushed the film in international, with estimated box office outside North America rising by 48%.
In North America, Tom And Jerry grossed $3.8m at the weekend, taking the total to $33.7m. Internationally, box office for the live-action/animation hybrid was $4.0m, taking the cumulative total to $43.5m. Global tally is $77.2m.
In Japan, Tom And Jerry opened with an estimated $1.7m, landing in third place behind two local titles. In Saudi Arabia, the film began with an estimated $804,000, ranking in second place behind a local Egyptian title. Japan and Saudi Arabia combined delivered 63% of the film's international weekend total.
In cumulative totals, China ($15.8m) and Russia ($7.5m) remain way out in front, then Mexico ($2.3m) and United Arab Emirates ($1.9m). Japan ($1.7m) is already the fifth-strongest market after just one weekend of play. Colombia ($1.3m) has overtaken Brazil ($1.2m) for sixth place.
Chloe Grace Moretz stars as a street-smart young woman who lands a job at an upmarket Manhattan hotel that is hosting a celebrity wedding, and must contend with the chaos unleashed by the titular cat and mouse.
This weekend, the Warner Bros film – also known as Tom & Jerry The Movie – arrives in Spain, which is the only major country in western Europe where cinemas are open, albeit operating with restrictions.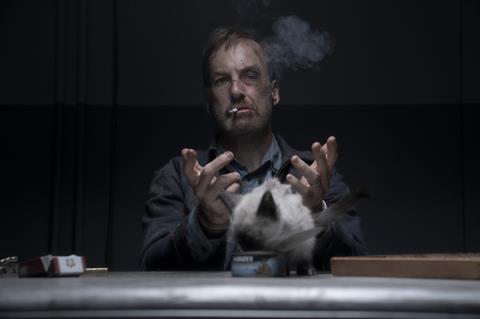 'Nobody' starts strong in Russia, Middle East
Universal enjoyed a $2.6m opening from four markets with action thriller Nobody, starring Better Call Saul's Bob Odenkirk as a bystander who intervenes to help a woman being harassed, and becomes the target of a vengeful drug lord.
Russian-born Ilya Naishuller (Hardcore Henry) directs, and Russian actor Aleksei Serebryakov (known internationally for Leviathan and TV's McMafia) stars opposite Odenkirk. Russia proved the top market with an estimated $1.25m opening.
Nobody also opened in United Arab Emirates ($386,000), Egypt ($30,000) and a territory billed by Universal as Others Middle East, which includes Saudi Arabia ($976,000). Australia opens on April 1, with South Korea to follow on April 7.
'Nomadland' enters top 3 in Australia
Searchlight Pictures' Nomadland proved robust for Disney in its third session in Australia, moving up to third place with takings of Aus$385,000 ($297,000). Chloe Zhao's tale of modern nomads in the US entered the chart two weeks ago in sixth place, and remained in sixth place a week ago, albeit with increased box office takings. Box office rose again – by 10% – in the third session. Total after 18 days of play is Aus$2.30m ($1.77m), which is not far behind the North American tally of $1.91m.
In Australia, Nomadland ranks behind Disney's Raya And The Last Dragon and Roadshow's Chaos Walking. Universal's Crisis, starring Gary Oldman, Armie Hammer and Evangeline Lilly, opened in fourth place with Aus$370,000 ($285,000). Local hit The Dry, starring Eric Bana, broke the Aus$20m ($15.4m) barrier this weekend, in its 12th week of release, and is currently in seventh place.