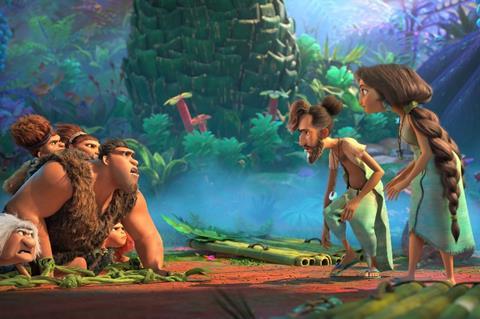 'The Croods: A New Age' receives China boost
Universal's release of Dreamworks Animation's The Croods: A New Age delivered an estimated $18m worldwide in its second session, taking the total after 12 days to $60.6m. The animated sequel's hold was much stronger internationally (sliding 37%) than it was in North America (down 55%).
The Croods: A New Age grossed an estimated $13.6m in international markets for a $40.3m total, and $4.4m in North America for a $20.3m total.
In China, the film was helped by the ill fortunes suffered by Constantin and Impact Pictures' Monster Hunter (see below). On Saturday, The Croods: A New Age expanded into screens vacated by Monster Hunter, and saw a day-to-day rise in box office of 559%. The film grossed an estimated $11.7m of its $13.6m international total in China.
Elsewhere, the Croods sequel opened in third place in Denmark with an estimated $351,000, and top in South Africa with $115,000. Next to open for The Croods: A New Age is Mexico, where it lands this Friday (December 11).
The Croods: A New Age is directed by Joel Crawford (head of story on Trolls), with Nicolas Cage, Emma Stone, Ryan Reynolds and Catherine Keener reprising their voice roles from the original film. In 2013, The Croods grossed $187m domestically and $400m internationally (via 20th Century Fox) for a $587m worldwide total.
Elsewhere for Universal, The Invisible Man opened in its final market, China, grossing $1.53m. That takes the international total to $70.4m, and $141m worldwide.
Trolls World Tour opened top in Brazil with $312,000. Totals for the DreamWorks Animation film are $44.1m for international, $5.6m for North America and $49.7m worldwide. In Brazil, some states and cities returned to "yellow phase" (cinemas open at 40% capacity, final show at 7-8pm) or "orange phase" (cinemas closed).
Body-swap horror comedy Freaky added $357,000 internationally and $460,000 in North America. Totals are $5.57m international, $7.74m domestic and $13.3m worldwide. Brazil opens this Thursday (December 10) and the UK on December 25. Spain, Germany, France, Italy and Japan are all likewise yet to come.
'Monster Hunter' opens top in five markets
The global launch of Paul WS Anderson's Monster Hunter was marred by its troubled start in China – yanked from screens after one day because of concerns over a perceived racial slur. The film, based on Capcom video game Monster Hunter: World, grossed $4.8m in China before being pulled from cinemas. (See Screen's report on China weekend box office.)
Despite the early exit, China nevertheless delivered the top box office result for Monster Hunter – and in fact more than all the other territories put together.
Sony Pictures Releasing International reports that Monster Hunter opened in first place in all five of its initial markets, delivering an estimated $2.65m.
Taiwan led with $1.5m, followed by Saudi Arabia ($550,000), UAE ($305,000) and Netherlands ($180,000).
Monster Hunter has many key markets yet to open and will next arrive in Mexico (December 31), Australia and Spain (both January 1). Milla Jovovich, Tony Jaa and Ron Perlman lead the cast.
'The War With Grandpa' tops Australia
Universal has topped the Australian box office with its release of The War With Grandpa, elbowing aside last week's festive chart topper Happiest Season, which falls to third place, below second-placed Tenet.
Family comedy The War With Grandpa, starring Robert De Niro and Uma Thurman, began with a solid Aus$944,000 ($699,000), which compares with an Aus$553,000 ($409,000) debut for Happiest Season the previous weekend. Oakes Fegley (Pete's Dragon) stars as a boy determined to regain control of his bedroom from his grandfather (De Niro), who has moved in with his family. Tim Hill (Alvin And The Chipmunks) directs.
The War With Grandpa released in North America on October 9, grossing $17.6m to date. Global total prior to this weekend stood at $26.1m.
Tenet, in its 15th week of play in Australia, delivered another strong hold, declining just 19% to a weekend total of Aus$427,000 ($316,000). Total so far is Aus$14.9m ($11.0m). Happiest Season also held well, dropping 24% for a Aus$420,000 ($311,000) weekend haul, and a total after 11 days of Aus$1.17m ($866,000).
Universal's Let Him Go, starring Diane Lane and Kevin Costner, and Rams, a local remake of the Icelandic film, round out the top five.
'The Witches' boosted by Japan opening
The sixth session for Warner Bros' The Witches saw Robert Zemeckis's Roald Dahl adaptation achieve a strong hold at the international box office, with weekend takings rising from $1.3m to an estimated $1.5m. A fresh opening in Japan, where the supernatural comedy fantasy was the top US title, delivered an estimated $790,000 of this tally.
The Witches also grossed $186,000 in the Netherlands in its second weekend of play, a decline of 29%. Next best market was Brazil, with $108,000 for its third session, down 33%. The drop in holdover markets overall was 39%. Total after 38 days is $18.9m.
In cumulative totals, top markets remain unchanged from the previous weekend: Russia, Mexico, Saudi Arabia, Taiwan and Spain. The film bypassed cinemas in North America (going straight to HBO Max) and in the UK (premiering on premium VoD).
Also from Warner Bros, Melissa McCarthy comedy Superintelligence grossed an estimated $501,000 from 10 territories, representing a 35% drop from the opening session. International running total is now $1.6m. Top markets were Russia, Saudi Arabia and Ukraine. Next for the film is the UK (December 11), followed by Australia (December 17).
Warner Bros' Tenet added $1.3m globally at the weekend, boosted by a chart-topping opening in India (with $675,000). Totals so far are $302m for international, $58m for North America, and $360m worldwide.
'Demon Slayer' closes in on record
Demon Slayer The Movie: Mugen Train continued its successful run in Japan. Figures from co-distributors Aniplex and Toho were not available, but the weekend total is estimated at $6m, and the total to date at $276m.
The manga adaptation is chasing Spirited Away (30.8bn yen) to become the biggest film ever at Japan's box office. Demon Slayer is around the 28.8bn yen mark – leaving a shortfall of 2bn yen, or approximately $19m.
Demon Slayer recently overtook Titanic (26.2bn yen) in the all-time ranking. The anime film is IMAX's biggest ever hit in Japan, grossing $18m in the format.