JANUARY 30 UPDATE: Fantasy sequel takes $52.5m on its opening day in China to dominate overseas box office.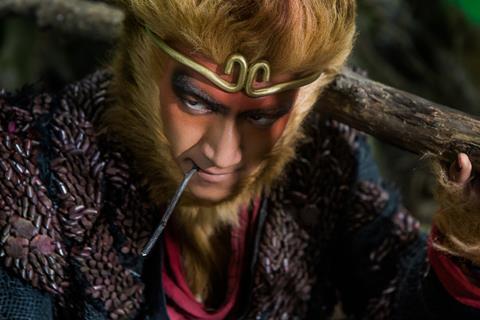 CHINESE NEW YEAR
With six titles competing for local audiences on Chinese New Year yesterday (January 28), Journey To The West: The Demons Strike Back won the battle.
Tsui Hark's fantasy sequel recorded the biggest-ever day for a local Chinese title and the second biggest of all time with an estimated $52.5m in China, topping the Chinese record set by The Mermaid last year and only behind Furious 7.
Estimates for the two-day weekend aren't yet available, but from 390 IMAX screens, it took $7.4m, with $4.5m coming from its bumper first day. That marks the best-ever day for a local language title and the third biggest of all time, behind Warcraft and Furious 7.
According to comScore, Journey To The West: The Demons Strike Back posted a huge estimated $85m bow from its seven territories.
Other Chinese New Year openers included Buddies In India ($44m from two territories), Kung Fu Yoga ($40m from four territories), Duckweed ($18.3m from China) and Boonie Bears: Entangled Worlds ($17m from China).
SONY PICTURES RELEASING INTERNATIONAL
Resident Evil is now the biggest video game based film franchise of all time as it crossed the $1bn mark at the worldwide box office across its six outings.
Its latest outing, Resident Evil: The Final Chapter was the number one Hollywood film at the overseas box office this weekend with $28.3m from its 44 markets, including $2.9m from Constantin Film markets, for $64.5m to date.
Highlights of its 42 new debuts were South Korea ($3m) and number one openings in the likes of Taiwan ($2.3m), Indonesia ($2.1m) and Thailand ($1.2m), as well as nine chart-topping bows in Latin America including Mexico ($3.4m) and Brazil ($2.5m).
From its 495 IMAX locations worldwide, the horror sequel grossed $3.2m. It opens in Spain and the UK on February 3.
Local language 3D alien invasion sci-fi Prityazhenie (Attraction) charted top in Russia with $6.7m from its 2,500 screens, with $600k coming from 47 IMAX screens.
T2 Trainspotting arrived in the UK in style this weekend with $6.3m from 1,000 screens, marking the third highest opening ever for an 18-rated film in the market. It expands its global rollout following its Berlin screening on February 10.
Currently playing in 55 markets, Passengers travelled to a further $4.3m for $192.7m overseas, including $13.1m from its Village Roadshow markets.
Wendy arrived in four markets, including Germany, for a debut of $1.3m from its 656 screens.
PARAMOUNT PICTURES INTERNATIONAL
Opening in nine new markets, xXx: The Return Of Xander Cage shot to $24m for $89m after two weeks.
Malaysia was the best new opener with a chart-topping $2.2m, while it posted bows of $568k and $513k in Turkey and Vietnam, respectively. Its next major openings come in South Korea on February 9 and China on February 10.
Monster Trucks drove to another $2.6m from its 26 markets for $22.7m and opens in Brazil on February 23, while Allied added $2m from its 31 markets for $72.2m and opens in Japan on February 10.
LIONSGATE INTERNATIONAL
UPDATE: La La Land danced to an extra $24.6m from its 73 markets for $118.9m overseas and $225.6m worldwide.
The awards contender charted second in France with an impressive $4.1m debut from 414 sites, as well as posting strong bows in the likes of Italy ($2.1m), Belgium ($676k, number one) and Sweden ($589k, number one).
It continued to dazzle in the UK, dropping only 29% in its third weekend and reaching $25.8m, making it the leading overseas market. In South Korea, it's now Lionsgate's highest-grossing film ever with $22.3m.
La La Land opens in Mexico on February 3, followed by China on Valentine's Day.
UNIVERSAL PICTURES INTERNATIONAL
UPDATE: Crossing $200m at the international box office, Sing took $23.7m from its 61 territories for $207.9m to date.
Illumination and Universal Pictures' latest hit animation enjoyed a show-stopping debut of $12.2m, including previews, in the UK and also landed top of the chart in France with a preview-boosted $5m.
Sing is still to open in China (February 17), Russia (March 2) and Japan (March 17).
Split grabbed an additional $14.8m from its 31 territories for an early $23.7m overseas and $101.1m worldwide.
M. Night Shyamalan's thriller opened at second in Australia behind Lion with $2.8m and posted number one debuts in Germany ($2.7m) and Spain ($2m). It fell only 21% in the UK with $2.5m for $7.5m to date.
Amblin Entertainment and Walden Media's A Dog's Purpose opened in seven overseas territories day-and-date with North America for a $3.4m debut, led by $1.8m in Mexico to chart second.
Manchester By The Sea has grossed an early $3.9m in its Universal territories and opens in Australia and Spain, among others, next weekend.
WALT DISNEY STUDIOS MOTION PICTURES INTERNATIONAL
Sailing into Hong Kong with $1m, Moana added $9.1m from its 35 territories for $290m overseas.
The animation also opened with $600k in Taiwan and became the biggest ever Disney Animation release in New Zealand. It lands in Denmark, Norway and Sweden next weekend, with a release in Japan to come on March 10.
Doctor Strange opened in its final international market of Japan and conjured up a chart-topping $4.5m, a debut ahead of the likes of Ant-Man and Guardians Of The Galaxy. Overseas, it has now amassed $433m.
Having opened in all territories, Rogue One: A Star Wars Story took $3.8m from its 32 territories for $510m overseas and $1.03bn worldwide.
FOX INTERNATIONAL
UPDATE: Opening in Italy ($575k) and France ($406k), Why Him? earned $3.7m from its 49 markets for $52.1m to date. The comedy opens in the Philippines next weekend.
Assassin's Creed hunted down another $3.2m from its 67 markets for $156m so far ahead of its release in China (February 24) and Japan (March 3).
Posting decent openings in Taiwan ($446k) and New Zealand ($293k), Hidden Figures grossed $1.5m from its 11 markets for an early $2.5m. The Best Picture nominee opens in 18 markets next weekend, including Germany and Mexico.
THE GREAT WALL
UPDATE: Legendary and Universal's The Great Wall added $3.5m from its 28 territories for $211.2m to date, including $170m from China.
The Philippines recorded a chart-topping $1.3m bow from its 176 sites, while France fell 43% with a $807k third weekend for $5.3m. It opens next weekend in Bulgaria, India, Latvia, Mexico, Netherlands, Ukraine and Vietnam.
WARNER BROS PICTURES INTERNATIONAL
UPDATE: Collateral Beauty grossed $2.7m from its 51 territories for $49.1m to date, after opening in Brazil with $685k from its 255 screens. It releases in Japan on February 25.
Landing in Australia with $362k and Spain with $241k, Live By Night shot to $1.8m from its 47 territories for $8.7m. Its next major opening comes in Germany on February 2.
The Accountant has accumulated $67m.