The world's biggest film festival for children and young people will include preview screenings of The Imitation Game and Disney doc Bears [pictured]; Q&A's with Harry Potter's David Yates, Stanley Kubrick's daughter and Selfish Giant director Clio Bernard.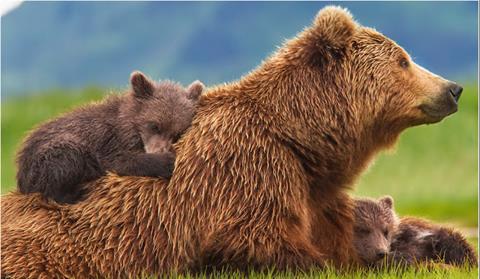 Into Film Festival (Nov 4-21), the world's biggest such event for children and young people, is preparing to launch its 2014 edition with a raft of previews, filmmaker Q&As and workshops on how to break into the industry.
Formerly known as the National Youth Film Festival, the programme anticipates 300,000 attendees aged 5-19 - up from 200,000 last year - at screenings and events across the UK and is funded by Cinema First and supported by the BFI through National Lottery money.
The programme will roll out across more than 520 cinemas across all the major chains and in a range of venues across the UK. Autism friendly screenings and, for sensory-impaired attendees, subtitling and audio-description, will add to inclusivity.
More than 150 films will be screened including Mandela: A Long Walk To Freedom, Boyhood, 12 Years a Slave and The Armstrong Lie.
Several preview screenings have been confirmed.
The Imitation Game (StudioCanal) will be previewing in Belfast, Swansea, Glasgow and London on Nov 11


Sixteen will preview at Filmhouse Edinburgh (Nov 14) and Liverpool Picturehouse (Nov 6), with a Q&A with director-writer Rob Brown


School of Babel at London's Cine Lumiere (Nov 4)


The Possibilities are Endless at London's ICA (Nov 12)


Nativity 3: Dude Where's My Donkey at Wolverhampton's Light House Media Centre (Nov 18)


Disney's new documentary Bears in Bristol and Leicester Square


Robot Overlords exclusive clips plus a Q&A with the filmmakers at the Hyde Park Picturehouse (Nov 4)
Film industry professionals from different corners of the industry will take part in Q&As and workshop events including Harry Potter director David Yates, Maleficent actress Imelda Staunton, Sunshine on Leith actor Jason Flemyng and Katharina Kubrick, daughter of Stanley Kubrick.
Other include The Selfish Giant director Clio Bernard, God Help The Girl director Stuart Murdoch, The Boxtrolls actor Isaac Hempstead Wright, Robot Overloads filmmakers, Next Goal Wins director and producer Steve Jamison and the young actors from Believe.
Further Q&As will include Leave to Remain director Bruce Goodison, Tom McDonald, acting head of commissioning for science and Natural History at the BBC and The Grierson Trust, Here and Now actor Andy Rush with writer-director Lisle Turner, The Boxtrolls director Mark Shapiro, explorer and writer Simon Yates (Touching the Void), and Aardman Animations about their forthcoming film Shaun the Sheep.
Other events include Oska Bright, showcasing shorts made by young people with learning difficulties; Parliament Week, anti-bullying and black-history activity; How To Break Into The Film Industry workshops; learning about the animation process with editor Mark Soloman; and a language workshop at the Cervantes Institute