Hong Sangsoo's Introduction and Maria Speth's Mr Bachmann And His Class share the lead on the latest Screen jury grid, as a further five titles take their spots.
Prolific Korean director Hong's Introduction was the most consistent scorer to date, receiving five marks of three (good) plus two fours (excellent) from Sight & Sound's Nick James and Mathieu Macheret of Le Monde/ Cahiers Du Cinéma. It has a 3.3 score with one mark still to come.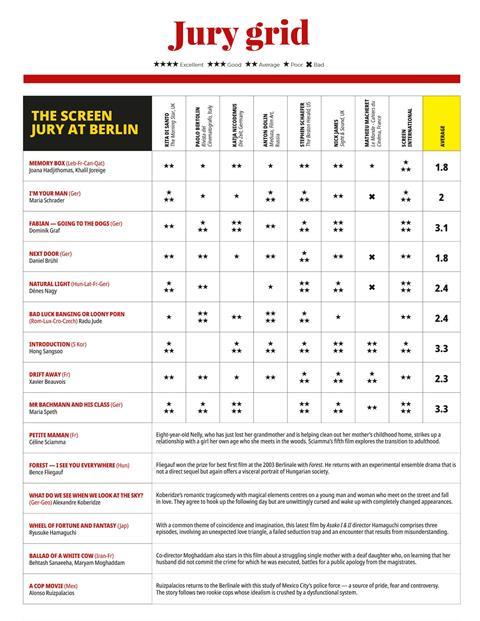 Hong's fifth Berlinale Competition entry is told in three parts, showing a young man visiting his father, his lover, and his mother.
Also scoring 3.3 was Maria Speth's documentary Mr Bachmann And His Class, about the close bond between elementary teacher Dieter Bachmann and his students in a provincial German industrial town.
It received three top mark fours – the joint most of this year's Competition so far – from Die Zeit's Katja Nicodemus, The Boston Herald's Stephen Schaefer and Screen's own critic. It also has one score still to come.
Three further titles recorded scores slightly above the midway point.
Radu Jude's Bad Luck Banging Or Loony Porn proved divisive among the jury critics, with fours from Rivista del Cinematografo's Paolo Bertolin and Meduza/ Film Art's Anton Dolin balanced by ones (poor) from The Morning Star's Rita Di Santo and James. It stands on a 2.4 average with one score to come.
Incorporating the pandemic into its storyline, the film follows teacher Emi as she is faced with career ruin after posting an amateur porn clip online.
Dénes Nagy's Natural Light also recorded a 2.4, via fours from Schaefer and Screen's critic but a zero (bad) from Macheret, with one score to come.
Nagy's feature debut centres on a Hungarian army officer who is part of a special scouting unit searching for Russian partners in Nazi-occupied Soviet Union. When his commander is killed, he is forced to take charge.
Xavier Beauvois' French title Drift Away received all eight scores for a 2.3 average. This was borne out by the film's modal score of two (average), occurring four times from the eight critics.
In Drift Away, Jérémie Renier plays a police commander in Normandy whose life unravels after he kills a man while trying to stop him from taking his own life.
Coming up next on the grid are Petite Maman from Girlhood director Céline Sciamma, Bence Fliegauf's experimental ensemble drama Forest – I See You Everywhere, and Alexandre Koberidze's What Do We See When We Look At The Sky?.