Back to the schoolroom for Maria Speth's engrossing tutorial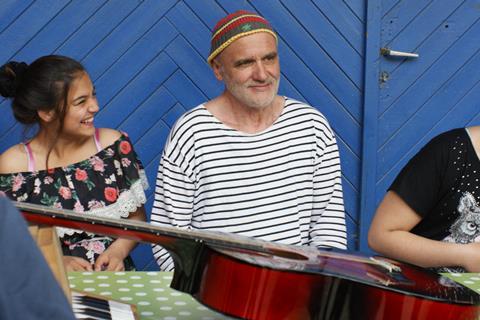 Dir. Maria Speth. Germany. 2021. 217 mins.
Some films, regardless of their quality, only really come into their own when seen with an audience. That's why, while documentary Mr Bachmann And His Class is likely to make an serious impact in this month's online Berlinale competition, its full effect as an absorbing in-depth study will be felt later this year, when Berlin audiences experience it under one roof. One reason the film calls for communal viewing is because it is about community and sharing the same space – in this instance, a school classroom - and as such is the perfect antidote to lockdown negativity. Maria Speth's study of a veteran teacher and his early teens students lasts three and a half hours, but not a moment is wasted. Anyone who teaches, or has ever been taught, will find something to relish in this serious-minded but quietly celebratory film.
Altogether its own film
German director Maria Speth, whose films include fiction (Daughters) and documentary (9 Lives), here examines a single classroom in the town of Stadtallendorf, in the Hesse region. The students, girls and boys in their early teens, are from a range of immigrant backgrounds – predominantly Turkish, but also Romanian, Bulgarian, Sardinian and other – with some, recently arrived in Germany, still struggling with the language of their new home. The unflappable teacher is 64-year-old Dieter Bachmann. With his grey beard, super-casual dress style and range of beanie caps, Bachmann may come across as a laid-back old hippie: his soft-spoken, monotone delivery and tenderly ironic disposition suggest Bill Murray's German cousin. But while he favours the soft approach, it's clear from the start that he can handle discipline, firmly instructing his pupils to leave the room and re-enter silently as class begins.
Bachmann teaches a range of subjects and has a knack of making schoolwork low-stress, especially where creativity is involved - his music classes clearly boosting his pupils' confidence and drawing out their skills at guitar, drums, beatboxing and breakdancing. He knows how to empower them academically: pupils who appear to be lagging behind are encouraged, rather than made to feel they are failing.
Shot by Reinhold Vorschneider - credited as co-writer, and previously a collaborator with Angela Schanelec, Nicolette Krebitz, Thomas Arslan et al – the film mainly consists of extended classroom scenes, but intermittently ventures wider, to show us life in the town (early morning streets, the local mosque and factory), while the last half hour follows the students to end-of-year study camp on a farm. A visit to a local museum illuminates the history of Stadtallendorf, its Hitler-era labour camps and the later recruiting of Turkish Gastarbeiter by the local factory. Classroom discussion touches on Germany's history of immigration, while Bachmann's account of his own Polish origins strikes a chord with the students, who discover that his forebears too were essentially Gastarbeiter themselves.
We learn relatively little about Bachmann himself, except in a few interludes as he talks with other teachers – notably Aynur Bal and Önder Cavdar, and with a sculptor friend. We discover that he has been married and has two children, and that he can understand students' struggles, because learning was once a challenge for him too. He also, with affecting candour, tells his class about his parents' drinking problems, caused by the same harsh working life that their own families are facing.
The alertness and evident fondness with which his students respond to Bachmann ought to inspire optimism about the receptiveness of youth - although it's clear that these working-class kids will face tough times after school, and reminders of Germany's past chime with allusions to the rise of the contemporary European right. There are also inherited prejudices to deal with. When Bachmann introduces a discussion of same-sex relationships via a folk song, some students profess disgust; rather than preach, he prods them to analyse what their feelings are and what causes them. If he hadn't gone into teaching, he would have made a terrific psychotherapist.
Speth's approach is somewhat in the Frederick Wiseman vein, with no commentary or interviews, but with some narrative shaping that follows the course of the academic year. Her subject is very similar to Nicolas Philbert's Être et Avoir, where the pupils were younger, and Laurent Cantet's docu-drama The Class. But the specifics of the world outside school, and the cool observational patience with which Speth and Vorschneider record life in the classroom, make this altogether its own film. And just as Bachmann puts the students at ease, the film-makers have managed to do the same – unintrusively catching the pupils' episodes of vulnerability, or certain telling moments, as when two of them exchange flirtatious taunts.
One can't help wondering whether Speth, as her own editor, is guilty of selective distortion in painting a generally upbeat picture; it's hard to believe that the year would not have had some bad-tempered flare-ups. But overall, the film feels unrhetorically true to life, echoing Bachmann's parting words of wisdom to his class: what counts above all is not the lessons themselves, but simply being "true to yourselves." Some educationalists might dismiss this as a vaporous hangover from 60s/70s ideals of self-expression, but the enthusiasm and fondness that the students show towards Bachmann and his colleagues prove that something in the approach is pretty effective.
Production company: Madonnen Film
International sales: Films Boutique, contact@filmsboutique.com
Producer: Maria Speth
Screenplay: Maria Speth, Reinhold Vorschneider
Cinematography: Reinhold Vorschneider
Editor: Maria Speth