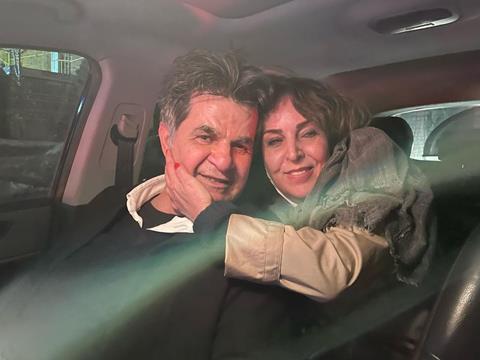 Filmmaker Jafar Panahi has been "temporarily" released from prison in Iran, three days after he went on hunger strike in protest at his arrest in July.
Panahi's wife Tahereh Saeidi posted a picture of herself and her husband this afternoon (February 3), along with the words, "Temporary release of Jafar Panahi."
She added: "Today, Friday, February 16th, and on the third day of Jafar Panahi's dry strike; with the efforts of his family, respected lawyers, representatives of the cinema house and the cinema organization, Mr. Panahi was temporarily released from Evin prison."
Saeidi did not give any indication of how long the temporary release would be for. According to the Associated Press, Panahi's lawyer Yusef Moulai confirmed that Panahi had been released 'on bail', and had returned home.
Panahi was arrested in Tehran, Iran in July 2022, and ordered to serve a six-year sentence that was first handed down in 2010 for criticising the Iranian government.
View this post on Instagram
He was seized by the authorities after going to the prosecutors' office with colleagues and lawyers to inquire about the earlier arrest of fellow Iranian filmmaker Mohammad Rasoulof.
Panahi was convicted of "propaganda against the system" in 2010, following his support for anti-government protests and a string of films that critiqued modern Iran. He was also barred from leaving the country and from making films. Panahi originally served two months in prison after his 2010 conviction before being granted a conditional release that was revocable.
In his statement, Panahi said: "According to the law… after more than ten years of non-execution, the sentence is subject to the passage of time and becomes unenforceable. Therefore, this arrest was more like banditry and hostage-taking than the execution of a judicial sentence."
He added: "While we have seen that it takes less than 30 days from the time of arrest to the hanging of the innocent youth of our country, it took more than a hundred days to transfer my case to the branch with the intervention of security forces."
"What is certain is that the behaviour of the bully and extra-legal security institution and the unquestioning surrender of the judicial authorities once again show the implementation of selective and tasteful laws. It is only an excuse for repression."
Panahi is one of Iran's best known filmmakers. His 1995 film The White Balloon won the Camera d'Or at Cannes in 1995. He won the Golden Leopard at Locarno for The Mirror in 1997, then the Golden Lion at Venice for The Circle in 2000. Taxi won the Golden Bear at the 2015 Berlinale.