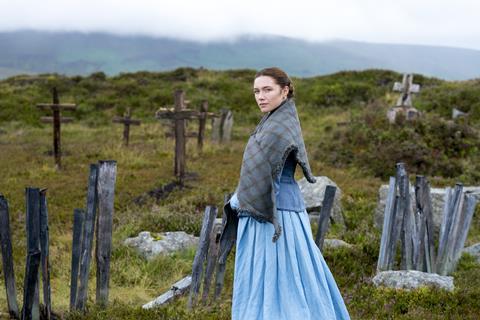 Ireland has moved a step closer to introducing a content levy on streaming services, which has the potential to deliver €25m of funding to the country's local production sector.
Last night (November 30), the final stages of an Online Media Safety and Regulation Bill was debated in the Oireachtas, the Irish parliament, which includes proposals for a new content levy.
Under government proposals, independent producers will receive 80% of all investments from a contestable fund that comes from the content levy – which is sometimes referred to as the "Netflix levy" in Ireland.
Notably, new rules will govern IP ownership deals between streamer and producers for projects funded by the new levy fund, enabling a return of investment for the producer.
At least 25 percent of the money raised will be used to make programmes in the Irish language.
A development fund will also provide funding for project development.
The legislation will formally establish a Media Commission, known as Coimisiún na Meán, as a successor to the Broadcasting Authority of Ireland with the addition of an extensive new role regulating online content.
Screen Ireland will have a key role in the work of fund alongside the new Media Commission, Coimisiún na Meán.
Several European countries, including France, Italy, Swtizerland and Denmark, have already introduced a content levy on streamers to fund indigenous, independent productions. Denmark has proposed a 6% levy for streamers, while the figure is 4% for Switzerland.
Industry bodies including Screen Producers Ireland, Animation Ireland, Screen Guilds of Ireland, Screen Directors Guild, Screen Composers Guild, Screen Writers Guild, RTÉ and TG4 have been advocating for the introduction of a content levy in Ireland.
Local reports say that the content levy has the potential to deliver €25m a year to the sector.
Industry representatives say that video-on-demand services, which are mainly based outside Ireland, receive an estimated €600m a year from Irish subscribers. However, industry experts say very little of that money is invested back into local programming.
Recent streamer-backed projects out of Ireland include Sebastián Lelio's The Wonder for Netflix, co-produced by Element Pictures.
Susan Kirby, CEO of Screen Producers Ireland, welcomed the news: "These new rules show the commitment that the Department, Media Commission, and Screen Ireland, is giving to the Irish independent production sector to ensure that funding from the content levy will help to create original, Irish content for both Irish and international audiences on global platforms."
Kirby added: "We are grateful to the cross political party Oireachtas Media Committee who have been very supportive of the introduction of a content levy, and recommended such in their pre-legislative scrutiny report earlier this year."
Meanwhile, the board and executive of Screen Ireland thanked Minister Catherine Martin TD for her "steadfast and meaningful engagement" on the Online Safety and Media Regulation Bill as it reaches its final stage.
"We would like to thank her for recognising the transformative potential of this legislation, and in particular the potential impact of the content production scheme on the Irish creative screen industry. The provisions within this Bill will help preserve European cultural diversity on screen, supporting both the production and prominence of European audiovisual works into the future."