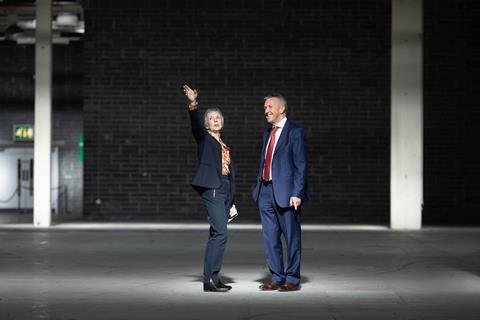 Ireland's new Troy Studios, which recently housed Syfy and Netflix's eight-part TV series Nightflyers, based on a novella by George RR Martin, has outlined major expansion plans to attract further inward investment production.
The facility, based in Limerick in the mid-west of Ireland, is increasing its sound stage capacity to 100,000 sq ft and is building a fourth sound stage which will be sized at 33,000 sq ft within its existing site. The expansion, subject to planning approval, will enable Troy to handle more than one major production at a time.
With private investment of some €6.5m to date, the studio opened in 2017 and is home to a 350,000 sq. ft. hub for content creation. Nightflyers, produced by Universal Cable Productions for Syfy and Netflix, began shooting earlier this year. It was the first major production to shoot at the studio and received backing from Screen Ireland, formerly the Irish Film Board.
Nightflyers stars Gretchen Mol, Eoin Macken and Brian F O'Byrne and is about eight maverick scientists who embark on an expedition to the edge of the solar system.
"Troy's new investment plan to increase studio capacity will be a further driver to grow Ireland's €1.1bn audiovisual industry, to create more employment and take best advantage of the global increase in the demand for content. Ultimately it will enable multiple productions to use Troy concurrently," said studio chairman Joe Devine.
The facility has received significant support to build a skills base in the region. In partnership with Screen Training Ireland, it has hosted training events and instigated an ongoing series of Troy Talks – offering discussion events with internationally recognised guest speakers from the industry. It has also been instrumental in working with Innovate Limerick to establish the first Digital Hub and Production and Digital Skills Academy which provides a training pathway for employment in the industry.
Troy is a sister studio to Ardmore Studios in Bray near Dublin.