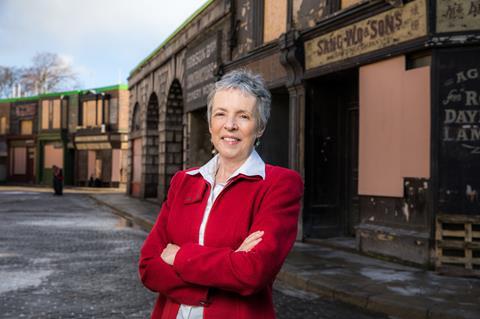 One of Ireland's top studio executives has called on the Irish government to restore increased funding to the film and television sector.
Súin Ní Raghallaigh, CEO of both Ardmore Studios and the recently opened Troy Studios, believes that Ireland has the potential to continue to develop a world-class industry but both funding and infrastructure need to be enhanced.
Troy Studios, located in the western city of Limerick, is currently in production with its first project, Netflix-produced series Nightflyers. The large-scale TV project is based on a novella by George RR Martin, the creator of Game Of Thrones.
But Ní Raghallaigh said that Ireland is missing out on other potential projects because of a lack of studio space.
"I can only comment on what's here now, and what's here now is full. And there's nothing going to come on stream in six months time. We're talking a minimum of 18 months to two years before there's more capacity.
"Ireland was, and still is [missing out]. For the industry in general, yes, there are still projects that we turn away."
Ní Raghallaigh called on the Irish government to restore pre-recession levels of funding, amounting to €20m annually, to the Irish Film Board (IFB) to support projects.
"There are ways for people to develop their projects as well and they [IFB] do support, but I think at minimum their funding should be brought back to where it was a couple of years ago. That's a given. They did get more funding this year, which is great. But it's still not at the level that it should be at.
"The industry should have a vision for where it wants to be and what it wants to be. The industry needs to define itself more here," she added.
Ardmore Studios in County Wicklow was recently taken over by Olcott Entertainment Ltd, which also has an interest in Troy Studios. Projects currently or recently filming there include AMC's Into The Badlands and The Rhythm Section, an action thriller starring Blake Lively from Eon Productions.
Ní Raghallaigh said that drawing such a prolific first project to Troy was great news for the studio and for locals.
"For Limerick it's been wonderful and the local support has been wonderful as well. It's something I also find with Ardmore: there's a sense within the community where we're based that people almost take ownership of the studios."
She added that Nightflyers, a sci-fi series starring Gretchen Mol, Eoin Macken and Jodie Turner-Smith, is a big-scale project for the region.
"It does vary, but it can be upwards of 400 [crew] on a given day. Importantly as well there's a lot of training going on. About 33 percent of that crew is local. One of the challenges for us at Troy, is there isn't a tradition of filmmaking in the area. We're there for the long haul, and we've worked very hard with Screen Training Ireland and the local education training boards and third-level institutions.
"It works for them. There's no other studio like it in the sense of 350,000 square feet under one roof. We're in the market now for the bigger projects that Ireland really wasn't attracting up until this point."