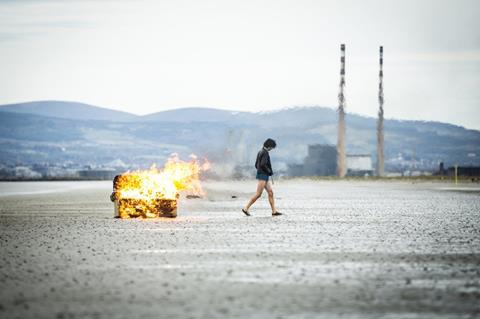 Full programme details have been revealed for the 7th Irish Film Festival London (29 Nov-3 Dec.)
The festival, which give a London showcase to the best Irish mainstream and independent films, opens with Nick Kelly's The Drummer And The Keeper.
The film chronicles an unlikely friendship between the bipolar drummer of a rock band and an institutionalised teen suffering from Asperger's syndrome.
Closing the festival is Emer Reynolds' feature doc, The Farthest, which tells the story of NASA's Voyager space programme and the men and women behind it.
IFFL 2017 is placing a special focus on women filmmakers, with four of Ireland's leading female directors engaged in screenings and discussions.
The Breadwinner (directed by Nora Twomey and executive produced by Angelina Jolie) and The Farthest are both being screened at the festival with Q&As.
Aisling Walsh (Maudie) will be part of the Female Focus Forum panel discussion along with Celine Haddad (Irish Film Board), Roisin Geraghty (GAZE), Aoife McCardle (Kissing Candice) and Anne Marie Naughton (Women in Film and Television Ireland).
Another of the festival's panel discussions will focus on Irish Screen Industries, the UK and Brexit. Speakers from Ireland, mainland Europe and the UK will ponder what ramifications Brexit might have on the Irish film and TV industries.
Among other films screening is Maze by Stephen Burke, which is inspired by the true events of the infamous 1983 prison breakout of 38 IRA prisoners from HMP, which was to become the biggest prison escape in Europe since World War 2.
Also being shown is Pat Collins' acclaimed Song of Granite, which brings the story of legendary sean-nós singer Joe Heaney to the screen.
Jim Sheridan's recent feature The Secret Scripture, starring Rooney Mara, Jack Reynor, Aidan Turner, Vanessa Redgrave and Pauline McLynn is in the programme as is In The Name Of Peace: John Hume in America, Maurice Fitzpatrick's documentary about politician John Hume who won the Nobel Prize for Peace in 1998 as well as the Martin Luther King Award and the Gandhi Peace Prize. The film features interviews with presidents Bill Clinton and Jimmy Carter, as well as Irish leaders, U2's Bono and Prime Ministers John Major and Tony Blair.
The main festival hub will be the Regent Street Cinema.
"We are delighted to be bringing another monster batch of Irish films to London for the festival. We had a lot of fun selecting the line-up this year. There was a marvellously rich source to draw from and we were spoilt for choice," festival director Kelly O'Connor commented of this year's programme.
For more more information go to the festival's official site.