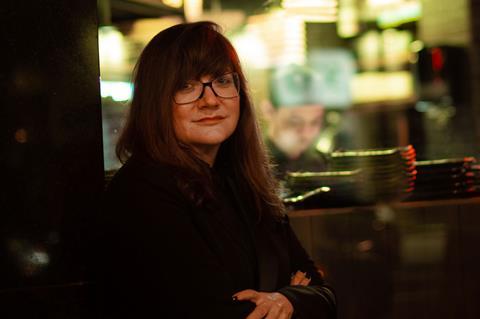 Shooting intimate scenes responsibly, sustainability in filmmaking a writing masterclasses from screenwriter Tony Grisoni and novelist and screenwriter Irvine Welsh, and filmmaker Isabel Coixet are among the highlights of this year's FEST New Directors New Films industry programme taking place this week in Portugal. FEST is running as a physical event from October 4-11 in the coastal town of Espinho with the industry programme running Oct 4 - 10.
UK actor and intimacy co-ordinator Joshua Okpala, whose most recent work includes TV shows This Is Going To Hurt and Anatomy Of A Scandal, discussed the history of intimacy co-ordination, power dynamics on set and production requirements for such scenes and the impact and aftermath of #metoo. One of the first Black intimacy coordinators in the UK, Okpala has worked on a slew of hit series for Netflix, BBC, Amazon and AMC including Bridgerton and A Very English Scandal.
Okpala followed up his masterclass by joining casting director Nancy Bishop, Berlin-based Crawford Talents founder and CEO Caprice Crawford and actor/producer and CEO of New Sparta Productions Chris Simon in a panel discussion aimed at actors and directors entitled 'Shooting a Scene with Simulated Sex and Nudity' . The participantsl talked unique problems and solutions for shooting scenes involving simulation of sex and nudity and mulled various contract and nudity clauses offering protection and how filmmakers work with an intimacy coordinator to ensure actors feel safe while producing the best artistic results for a scene.
Crawford, a US producer and former actor who has acted alongside Jamie Foxx, Don Johnson, Orlando Bloom and Burt Reynolds across TV and feature films, also presented a masterclass on being an international agent, client relationships and how to help talent handle rejection.
And Simon, whose credits includeThe Killing Of A Sacred Deer and most recently Catherine Hardwicke's Miss You Already, starring Toni Collette and Drew Barrymore, presented a masterclass entitled 'How to Act Your Way to Becoming a Producer'.
Screenwriter Grisoni, renowned for his work on Fear And Loathing In Las Vegas,and The Man Who Killed Don Quixote, is lined up to discuss the craft of screenwriter including book-to-screen adaptations, writing original screenplays and working with distinct directors, such as his frequent collaborator Terry Gilliam.
Novelist and screenwriter Welsh will talk creative process, his writing style and how works including Trainspotting, Porno and Filth have been successfully adapted for the big screen.
Also scheduled is a presentation from general practitioner and health coach Tamara Karni Cohen about mental health in the film industry.
There is also a masterclass from iconic Catalan filmmaker Isabel Coixet and a talk by German- born Portugal-based filmmaker Dorte Schneider focusing on "green shoots" and sustainability in film across all the stages of production from scriptwriting to post-production lined-up.