"I'll let myself be surprised, as my good friend Michael Haneke would say," says French actress about Oscar prospects.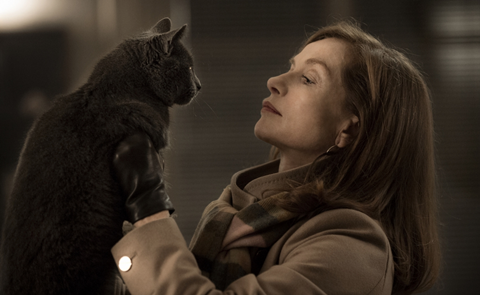 There has been growing buzz in recent weeks around Isabelle Huppert's chances of clinching Best Actress at the 2017 Oscars for her multi-layered performance as a woman who turns the tables on a rapist in Paul Verhoeven's French-language thriller Elle.
The French actress – who counts one Bafta, two Palme d'Or, a shared Silver Lion and a slew of life-time achievement tributes among the 60-odd awards she has won over her 40-year career – has never made it to the Academy Award nomination stage before.
But there appears to be a groundswell of feeling at home and in Los Angeles that this should be her year.
A win would come on the back of a high-profile 12 months on the international festival circuit for Huppert, linked to her appearances in Elle as well as French filmmaker Mia Hansen-Love's Things To Come and Flemish director Bavo Defurne's Souvenir.
France's decision to submit Elle as its foreign-language Academy Award entry has further raised her profile in the Oscar race.
The fact Huppert is being feted with a tribute and gala screening of Elle at the AFI FEST in November – coinciding with the film's US release by Sony Classics Pictures mid-November — is also seen as a good sign.
Huppert admits she would love to win an Oscar – "Name me an actress who wouldn't?" – but plays down the growing hype that she is in line for a nomination and perhaps even a win.
"It's a bit premature to talk about that just yet. We'd be happy at this stage if the film was one of the five nominations. I would be happy above all for Paul Verhoeven," she says.
"I'll let myself be surprised as I my friend Michael Haneke would say," she adds, referring to her long-time Austrian collaborator who directed her Palme d'Or-winning performance in The Piano Teacher as well as in the Oscar-winning Amour. She has just come-off the set of his latest film Happy Ending.
Souvenir
Huppert was talking to Screen at the BFI London Film Festival where she put in an appearance alongside Verhoeven for the competition screening of Elle and melodrama Souvenir.
In Souvenir, Huppert plays faded popular singing star Liliane who once triumphed at the Eurovision Song Contest but has been forced to take a monotonous job in a pate factory after hitting hard times.
This humdrum life is shaken up after a young new arrival, played by rising French actor Kevin Azais (Love At First Fight), recognises Liliane and convinces her to resurrect her singing career.
Huppert segues from downtrodden, hair-netted factory worker to glamorous chanteuse as she belts out a series of love-sick ballads, written and composed by the real-life group Pink Martini especially for the film.
"The idea of playing a singer amused me. I used to follow the Eurovision Song Contest when I was a child although I haven't watched it recently. It's got a great soundtrack composed by Pink Martini, a group I adore and the script was extremely well-written. I was intrigued by the idea of this singer who ends up working in a pate factory – it was touching and interesting at the same time,"
Elle
Speaking of her role in Elle, Huppert reveals that Verhoeven gave her little direct guidance on how he wanted her to play the protagonist Michele Leblanc, a hard-edged video games company boss who embarks on a strange cat-and-mouse game with a man who breaks into her house and violently rapes her.
"He gave me the screenplay and that was it. We rehearsed the rape scenes a lot because they were very technical so that was all very controlled but we never exchanged a word on my character and I never questioned him either."
Verhoeven originally planned to shoot the film, based on a novel by Betty Blue writer Philippe Djian, in the US but decided to return the story to France after a number of A-list actresses turned down the role. He told the press during Cannes, where it premiered in Competition, that he believed this was because they were uncomfortable with the way the film tackled the issue of rape.
Huppert, meanwhile, says she never gave the issue a second thought: "I know they tried to shoot it in the US before returning the story to France but I don't know the details so I can't comment on that. I just quite simply thought it was a wonderful, incredible role. I had loved the novel too. I didn't think about its morality or how people would react - it's not how I operate."
"The protagonist is an interesting character who isn't quite a victim but isn't a traditional 'revenge girl' either. It's like we're inside her mind as she deals with the situation. You get the sense she feels compelled to act but at the same it's not clear what's driving her. I like the idea that we can never truly know why people do things but the fact is they do."