EXCLUSIVE: Tel Aviv-based festival will open with world premiere of Before My Feet Touch the Ground.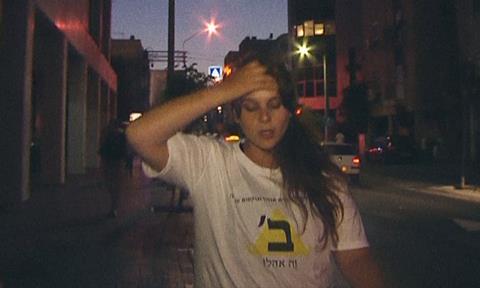 Docaviv, Israel's top documentary festival, has finalised the selection for its 19th edition (May 11-20).
The Tel Aviv-based event will kick off with the world premiere of Daphni Leef's Israeli documentary Before My Feet Touch The Ground (pictured), about a film student who became the leader of a popular protest movement.
13 Israeli films have been selected to compete in the Docaviv Isreali film competition, 11 of which are world premieres.
They are competing for the best Israeli film award worth $19,000 (NIS 70,000), the largest prize for documentary filmmaking offered anywhere in Israel.
For the first time, a FIPRESCI jury will also award a best director award.
The competition will feature work by David Deri, Doron Galezer and Ruth Yuval (The Ancestral Sin), Daniel Sivan (The Patriot), and Rina Castelnuovo-Hollander and Tamir Elterman (Muhi).
International competition
11 films have been selected for the international competition. They include Raoul Peck's I Am Not Your Negro; Ron Howard's The Beatles: Eight Days A Week – The Touring Years; Jim Jarmusch's Iggy Pop and The Stooges doc Gimme Danger (pictured); Sundance winner Motherland (Ramona Diaz) and Mat Whitecross' Oasis: Supersonic.
This year's festival also includes a true crime section, including films about unsolved murders and failed judicial systems. These include The Family I Had by Katie Green and The Promise, by Marcus Vetter.
Films competing in the 'Depth of Field' strand include: Houston, We Have a Problem!; The Challenge; and Fraud.
The Masters section will feature Vitaly Mansky's Close Relations, Claire Simon's The Graduation, Sergei Loznitsa's Austerlitz and Michael Winterbottom's On the Road.
Finally, special guests at the event include Sergei Polunin, who will attend the Israeli premiere of The Dancer, along with the film's producer, Gabrielle Tana (Philomena, The Duchess); French director Claire Simon (Récréation) who will hold a master class screening her latest film, The Graduation; Brazilian director João Moeira Salles, who will present his new film In the Intense Now, and French philosopher Bernard-Henri Lévy, who will hold a talk with the audience after the screening of his film, Battle of Mosul.
The festival, screening 117 films in all, will be held on 11 - 20 May 2017 at the Tel Aviv Cinematheque and other locations across the city.