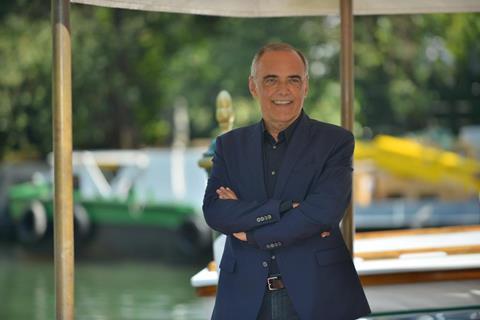 The Venice Film Festival (which concludes on September 8) and its director Alberto Barbera have faced fierce criticism in the international press since announcing a Competition line-up featuring just one film directed by a woman.
More negative headlines occured during the festival itself, with an obscure filmmaker revealing a pro-Harvey Weinstein t-shirt on the red carpet, and an insult shouted towards Jennifer Kent during a press screening of The Nightingale.
However, in the Italian industry there is sympathy for the festival, with senior industry figures telling Screen those in charge of financing films in Italy, combined with a lack of female executives in the production sector, are more to blame for the much-discussed gender imbalance among filmmakers.
"This is not the festival's problem, it is not a selection problem and it is not Barbera's problem" said Indigo's Francesca Cima (The Great Beauty, The Invisible Boy) also president of the national association of producers "The only way to address the issue is from the top, with [film] schools and more access to funds. We have to deal with what women want to do, giving them more opportunities. Just have a look at how women are under-represented in production when it comes to power positions".
During the festival Alberto Barbera and Biennale president Paolo Baratta signed a protocol for more transparency in the selection process and committing to parity in top positions, together with Women in Film and Dissenso Comune, two leading Italian gender equality movements.
Antonietta De Lillo, responsible for institutional relations of Women in Film, said recent controversies are a distraction. "We are not interested in pro-Weinstein t-shirts or someone shouting at the screen. We are focused on action and doing something for real. The signing of the protocol has been the result of a long and hard work with the Biennale, one that was not eased by the attacks the festival received from the media that put it on a defensive mood".
A director herself whose credit includeThe Remains of Nothing (Il Resto Di Niente) which screened in Vence in 2004 , De Lillo added she would never like to be selected on the basis of her gender: "What we need is more women in positions of power in the industry, we need more female gaze on film, matching the existing male one. With that we can achieve parity and the much hoped for 50-50 representation."
Even producers agree that production is the problem, not festivals. Cattleya's Riccardo Tozzi, producer of international hits Gomorra and Suburra, said: "Festivals are like shop windows. Forcing them to promote women instead of working on where movies have their origin [ie how they are produced and financed and who by] doesn't help gender parity and has the only result of ruining the shop. Alberto Barbera and its selection committee can only consider the final products and he was right to point to the producers for a real change".
Quotas
Alberto Barbera's now notorious comment he would rather quit the job than select a movie just because it was made by a woman was not seen as notorrious to many in Italy. RaiCinema's CEO Paolo Del Brocco is on the same page: "I totally agree with Barbera," he said. "The director's name should be considered after seeing the movie, otherwise Venice risks becoming a festival of directors and not one of films."
"Being in a position where I can choose projects I would be ashamed to select directors not for their merit but for their sex," he continued. "I couldn't do the job. The issue on which we must reflect is how many people are trying to enter in the industry and who they are."
Recently a new law regulating public funding and distribution has been approved in Italy, with specific funds now dedicated to productions with a large proportion of women involved. "Things are definitely changing in Italy," suggests director Susanna Nicchiarelli. "The new law really is a good sign thanks to which I think we're responding to the global movement towards women's right, with which I firmly agree".
Nicchiarelli, who won Venice's Orizzonti section in 2017 with Nico, 1988, said female filmmakers must keep up the pressure on financiers. "It's wrong to target the festival just because it has more visibility", she said. "The Biennale has a majority of female employee and the same is true for its selection committee. I'm happy they signed the protocol, but our focus must remain on the money. I'm all for being aggressive with women's rights but the target must be where money is assigned, still women are considered unreliable when it comes to blockbusters. They all make documentaries because they're cheaper."