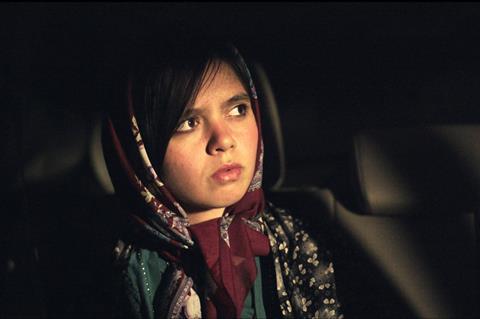 Paris-based Celluloid Dreams has acquired world sales rights to Iranian director Jafar Panahi's new film 3 Faces ahead of its world premiere in Competition at the Cannes Film Festival in May.
In a first sale for the film, French distributor Memento Films has taken rights for France.
The Celluloid Dreams deal continues a long collaboration between its founding president Hengameh Panahi and the filmmaker, dating back to his first feature The White Balloon, which premiered in Cannes Directors' Fortnight in 1995.
"I started working on Iranian films with Abbas Kiarostami's films. Jafar was his assistant and Abbas wrote the script of his first film, The White Balloon, which won the Golden Camera at the 1995 Cannes Film Festival," she said.
It will be the first time Panahi premieres in Competition in Cannes, after winning the top prizes at Locarno with The Mirror, at Venice with The Circle and Berlin with Taxi Tehran. 3 Faces is about three actresses at different stages of their career.
"Cannes Competition has been his dream and this has become reality now with the selection of 3 Faces," said Celluloid's Panahi.
The filmmaker was last in Official Selection at Cannes in 2003 with Crimson Gold which played in Un Certain Regard, winning the special jury award for the section.
It is unclear whether Panahi will be able to attend the festival in person. The filmmaker, who has been at odds with the Iranian authorities throughout his career, is subject to a 20-year filmmaking ban. He was to have come to Cannes in 2010 as a jury member but permission to travel was denied by the Iranian government at the last minute.
Paris-based distributor Memento Films, which has a long and successful track-record working with Iranian cinema, also released Panahi's last film Taxi Tehran, which garnered more than 600,000 admissions.
"Taxi Tehran has been an amazing critical and box office success and a great distribution experience for Memento. We're thrilled to be distributing Jafar Panahi's new film," said Memento Films' CEO Alexander Mallet-Guy. "3 Faces is a new invitation to travel. Leaving the noise and bustle of Tehran for the mountain slopes, Jafar delivers a film with a mesmerizing beauty and thrills which once more is a fascinating radioscopy of the Iranian society. 3 Faces leaves an unforgettable impression. We can't wait to bring it to the French audience."
The feature follows the stories of three Iranian actresses: one from pre-revolution days who had to stop acting, one popular star of today known throughout the country and one young girl longing to attend a drama conservatory.