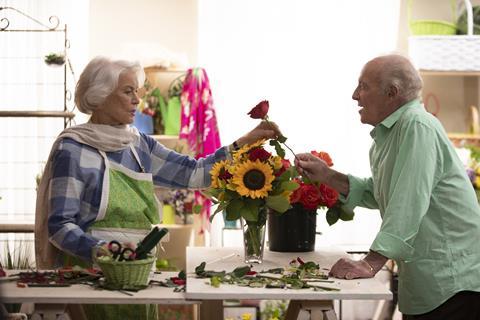 James Caan, best known for The Godfather and numerous other performances over a nearly 60-year career, has died. He was 82.
The news was announced by Caan's family on the actor's Twitter page: "It is with great sadness that we inform you of the passing of Jimmy on the evening of July 6," said the posting. "The family appreciates the outpouring of love and heartfelt condolences and asks that you continue to respect their privacy during this difficult time."
No other details were immediately available.
Reactions from fans and Hollywood colleagues included a statement from Michael Mann, who directed Caan in Thief, which said in part: "What a terrible and tragic loss. Jimmy was not just a great actor with total commitment and a venturesome spirit, but he had a vitality in the core of his being that drove everything from his art and friendship to athletics and very good times. There was a core of values within him about how people should be, more or less. It might be variable, the corners could be rounded with urban irony, but there was a line and it was non-fungible. And it produced many outrageous and hilarious anecdotes."
Al Pacino, Caan's Godfather co-star, said in a statement: "Jimmy was my fictional brother and my lifelong friend. It's hard to believe that he won't be in the world anymore because he was so alive and daring. A great actor, a brilliant director and my dear friend. I'm gonna miss him."
Rob Reiner, who directed Caan in the 1990 Stephen King adaptation Misery, tweeted: "So sorry to hear the news. I loved working with him. And the only Jew I knew who could calf rope with the best of them. Love to the family."
A tweet from Arnold Schwarzenegger, who starred with Caan in 1996 thriller Eraser, read: "James Caan was an icon - a legend. He inspired everyone who has ever been in front of a camera. I was lucky to work with him and see his talent and his fantastic sense of humor firsthand. He was a great training partner in the gym and a true friend, and I'll miss him."
Born in the Bronx, Caan first appeared on screen in 1963 Billy Wilder romcom Irma La Douce and broke through in 1971 TV movie Brian's Song, for which he earned a Primetime Emmy nomination.
On the big screen, Caan made his mark playing wayward mob boss son Sonny Corleone in 1971 classic The Godfather, which brought him an Oscar nomination. He also appeared in flashback scenes in The Godfather: Part II.
As a major star in the seventies, Caan appeared in hits including Freebie and the Bean, The Gambler, Funny Lady and Rollerball. In the eighties he played the title role in Michael Mann's Thief and starred in Godfather director Francis Ford Coppola's Gardens of Stone.
A range of roles in films such as Misery, Honeymoon in Vegas and indie hit Bottle Rocket followed before his appearance as the title character's gruff biological father in perennial Will Ferrell comedy Elf.
In recent decades Caan had appeared in a range of projects, among them Dogville, City of Ghosts and network series Las Vegas.
He most recently appeared on screen opposite Ellen Burstyn in indie romance Queen Bees and completed work on upcoming Phillip Noyce thriller Fast Charlie.