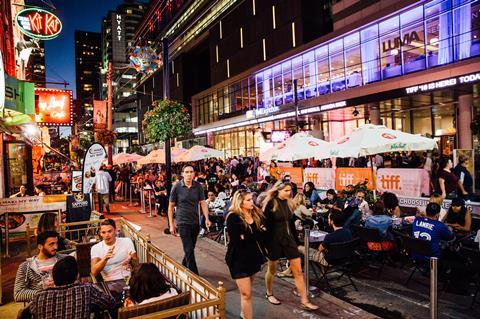 TIFF has announced the Industry Selects acquisition titles available to buyers during the festival, a 12-strong roster featuring new work from James Marsh, Rebecca Snow, and Neil Burger.
Gabriel Byrne plays literary giant Samuel Beckett in Marsh's Dance First alongside Sandrine Bonnaire, Maxine Peake, Aidan Gillen, and Fionn O'Shea. Film Constellation represents worldwide rights and the film will close San Sebastian.
Phoebe Dynevor (Bridgerton, Fair Play) stars with Rhys Ifans for Burger in Inheritance, a thriller about a woman who uncovers her father's espionage past. CAA Media Finance handles sales.
Snow (Cheating Hitler: Surviving The Holocaust) returns with The Boy In The Woods, the true story about a Jewish boy who survived the Nazi occupation of Eastern Europe by hiding in the forests of Poland. Myriad Pictures represents worldwide rights.
The Industry Selects titles are available worldwide and are not part of the Official Selection. TIFF brass continue to build up the festival's sales element, knowing the timing of the festival offers an increasingly valued opportunity for buyers from around the world to watch completed films.
Festival programmers have also unveiled the balance of Industry Conference (September 8-12) programming covering Connections, Microsessions, and Spotlight sessions. Earlier today TIFF announced that Sylvester Stallone will take part in the In Conversation With… series.
2023 INDUSTRY SELECTS
All plot summaries provided by TIFF.
Amelia's Children (Gabriel Abrantes, Port)
Diamantino co-director Gabriele Abrantes and star Carloto Cotta reunite for a Euro-Gothic creeper about an American and his girlfriend (Brigette Lundy-Paine) who discover he's the long-lost heir to a Portuguese fortune, which comes with some very strange family ties.
Sales: Goodfellas/CAA Media Finance
Bonus Track (Julie Jackman, UK)
Sixteen-year-old George Bobbin (Joe Anders) insists he's a future pop star, although no one else in his tiny English town agrees. Then he meets the son (Samuel Paul Small) of a famous musical duo who helps him rehearse for their school's talent show, leading both boys to grow closer creatively and personally.
Sales: Bankside Films
Borderline (Jimmy Warden, USA)
Los Angeles, 1996: Recovering from their last encounter, a devoted bodyguard (Eric Dane) must thwart the very persistent stalker (Ray Nicholson) of a Madonna-level pop star (Samara Weaving) when he breaks out of an institution and takes her hostage in her own home.
Sales: CAA Media Finance/Radiant Films International
The Boy In The Woods (Rebecca Snow, Can)
Jett Klyne stars in the remarkable true-life story of Maxwell Smart, a Jewish boy who survived the Nazi occupation of Eastern Europe by hiding out in the forests of Poland.
Sales: Myriad Pictures
Dance First (James Marsh, UK)
Gabriel Byrne plays the literary giant Samuel Beckett in this biographical drama from Oscar-winner James Marsh (Man On Wire, The Theory Of Everything), co-starring Sandrine Bonnaire, Maxine Peake, Aidan Gillen, and Fionn O'Shea.
Sales: Film Constellation
The Home (James DeMonaco, USA)
The squishy new horror film from James DeMonaco, creator of the Purge series, stars Pete Davidson as a twentysomething screw-up who's assigned community service at a fancy retirement home and comes to suspect some very unpleasant things are going on upstairs.
Sales: CAA Media Finance
Inheritance (Neil Burger, USA-UK-Egy-India)
When Maya (Phoebe Dynevor) learns her father Sam (Rhys Ifans) was once a spy, she suddenly finds herself at the centre of an international conspiracy in this nervy, fast-moving thriller from director Neil Burger (The Illusionist, The Upside, Voyagers).
Sales: CAA Media Finance
Les Hommes De Ma Mere (Anik Jean, Can)
After her mother's death, Elsie (Léane Labrèche-Dor) sets out to find her five ex-husbands and scatter her ashes with each of them ― tracing her own history in the process, and seeing her mother's life in an entirely new way. Directed by Anik Jean and co-starring Patrick Huard, Marc Messier, Colm Feore, and Anne-Marie Cadieux.
Sales: Jessie Films
Orah (Lonzo Nzekwe, Can)
When her teenaged son is murdered back home in Nigeria, a Toronto cabbie (Star Trek Discovery's Oyin Oladejo) decides to bring down the international money launderers responsible for his death as violently as possible.
Sales: Orah Productions Inc.
Queen Of Bones (Robert Budreau, Can-USA)
Martin Freeman, Taylor Schilling, Julia Butters, and Jacob Tremblay star in this dark Depression-era folktale focused on twin siblings who suspect their father is hiding secrets about their deceased mother's connection with the supernatural. Directed by Robert Budreau (Born to Be Blue, Stockholm).
Sales: CAA Media Finance
Umbrella Men II: Escape From Robben Island (John Barker, SA)
They pulled off the perfect heist, and went to prison anyway ― so now it's up to the women of the Umbrella gang to orchestrate their escape from Robben Island Prison, in this sequel to John Barker's 2022 crime comedy.
Sales: Africa Entertainment in America
Vera And The Pleasure Of Others (Romina Tamburello & Federic Actis, Arg)
Vera (Luciana Grasso) is 17, and like any teenager, she divides her days between volleyball, school… and renting out an empty apartment in her mother's building to classmates looking for a place to have sex. An inventive new look at desire and longing from directors Romina Tamburello and Federico Actis.
Sales: m-Appeal
2023 Industry Conference Additions
CMPA Indiescreen Awards
Returning for September 7, the Indiescreen Awards recognise producers whose vision and entrepreneurship demonstrate a commitment and passion for producing Canadian feature films. The Indiescreen Awards are open to all registered delegates and are presented by the Canadian Media Producers Association in partnership with Telefilm Canada. The awards will be followed by cocktails, food, and networking.
Microsessions
Collaborative programming with TIFF's brand partners to highlight the opportunities and expertise that working professionals can gain from some of the world's leading brands and cultural organisations. Microsessions include:
Turning on the Light in the Basement: From the Vaults to the Screens — Led by Iron Mountain Entertainment Services
Informed Choices: New Insights for Environmentally Sustainable Filmmaking — Led by Telefilm Canada
Empowering Rising Voices: Advocating for Diversity, Equity, and Inclusion through Film — Led by Indeed
Transnational Cinema: Industry Perspectives from Quebec — Led by the Mel Oppenheimer School of Cinema at Concordia University and Grande Studios
Your Next Film is a Co-pro with UK — Led by the British Film Institute
Lights, Camera, Collaboration: 'Orah' and the Roadmap to a Nigeria-Canada Co-Production Treaty — Led by the Black Screen Office and supported by Ontario Creates
Connections
Networking sessions giving emerging to mid-career filmmakers the opportunity to interact with industry experts and gain practical knowledge to move their projects and understanding of the industry forward. The Media Partner for Connections is ok Playback. Connections sessions include:
Breaking barriers, shattering ceilings: Advancing accessibility and inclusion for people with disabilities in the screen industry
Making Shorts That Get Seen
Disney's Writing and Directing Programmes — Guest includes: Liz Kelly, director of creative talent development & inclusion at Disney General Entertainment (DGE)
BAFTA: Navigating an International Career
Beyond Co-pros: Cross-border Collaborations & Funds for Canadians
Activating Grassroots Movements with Gold House
SPOTLIGHTS
In collaboration with leading partner organisations, the sessions are designed to maximise the B2B experience over a breakfast networking session. Sessions Include:
The Big Pitch presented by CaribbeanTales Media Group — 12 BIPOC Projects pitch to a live audience and jury for feedback and funding support. Funded by Telefilm in partnership with the Toronto International Film Festival.
Do it the Spanish Way! International Co-production Forum — 5 Spanish film teams pitch development projects, with curated B2B speed meetings with Canadian and International professionals to follow. Led by ICEX España Exportación e Inversiones and ICAA Instituto de la Cinematografía y de las Artes Audiovisuales.
Explore the Northern Ontario Film Industry — Unlocking the sometimes untapped potential and lucrative benefits of Ontario's north for producers and creators. Led by Cultural Industries Ontario North (CION).
Polish Cinema at TIFF — This year's selection of Polish cinema is unmatched. Connect with Polish talent, learn about incentives and benefits of co-production, and meet new talent. Powered by the Polish Film Institute.
Everything Under the Sun and… More! — Appealing incentives, versatile locations, industry-friendly visas, amazing talent — everything Spain has to offer and more. Led by ICEX España Exportación e Inversione.
"Our Connections, Microsessions, and Spotlight sessions are intimate opportunities for professionals to learn from and connect with decision makers who can help forward their future projects and careers," said Geoff Macnaughton, senior director, industry & theatrical. "They include a mix of curated and co-produced sessions designed to fuel co-production, sustainability, and responsible storytelling."