EXCLUSIVE: Patti Cake$ breakout star Macdonald on board Seville International Cannes sales title.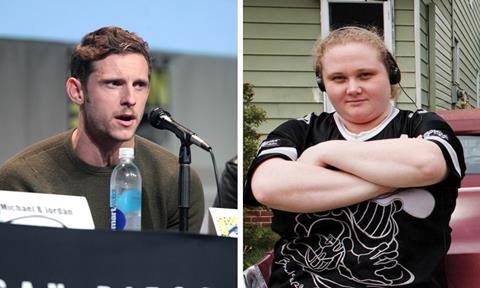 Seville International will launch pre-sales in Cannes on prestige drama Skin, a true story about the redemption of a Neo-Nazi that pairs Jamie Bell with Danielle Macdonald from Sundance breakout and Directors' Fortnight entry Patti Cake$.
Guy Nattiv will direct the true story based on the life of Bryon 'Pitbull' Widner, a violent gang enforcer who is decorated in facial tattoos for committing hate crimes.
Skin will recount how Widner falls in love with a mother of three daughters outside the gang and turns his back on the gang, resulting in the arrest of its leaders.
As he embarks on his new life, the former gang member receives a $70,000 gift from a Holocaust survivor to pay for painful surgery to remove his facial tattoos.
Skin marks the fourth feature from Nattiv, whose The Flood (Mabul) won the Generation Kplus – Best Feature Film at the 2011 Berlinale and was nominated for six Israeli Academy Ophir Awards.
Code Entertainment's Al Corley, Bart Rosenblatt, and Eugene Musso are producing with Oren Moverman, Nattiv, and Jaime Ray Newman. Jonathan Dana serves as executive producer along with ITEM 7's Marie-Claude Poulin and Pierre Even. ICM Partners and CAA jointly handle North American rights.
Bell will be seen later this year in Toa Fraser's SAS London embassy hostage thriller 6 Days, and his credits include Snowpiercer, Nymphomaniac, and Jane Eyre.
'Skin is new talent, it's fresh, it's daring'
"I met Bryon Widner in 2012 after seeing the MSNBC documentary on him and his tattoo removal process," Nattiv said. "I was living in Israel at the time, but chased him down, and flew to New Mexico with trepidation and fear. I was the first Jew he ever encountered, and he was certainly the first skinhead I ever met. This led to a five-year collaboration and deep friendship between us."
"We have worked hard to get great films and we're thrilled with our line-up," Seville International senior vice-president of international sales Anick Poirier said. "Skin is new talent, it's fresh, it's daring – a pivotal project for Seville International."
Poirier added that Nattiv was a "gifted storyteller", while the leads were "two highly-skilled actors who will masterfully bring this remarkable story to life."
"We are fortunate to be able to share this incredible journey with Guy Nattiv in telling such a remarkable and timely story of courage and love," Corley said. "To have the enormous talents of Jamie Bell and Danielle Macdonald to be so deeply committed is a godsend."
Sales roster includes 'Infiltration', 'Newness'
The Seville slate includes Québec filmmaker Robert Morin's French-language psychological thriller Infiltration.
The story centres on a plastic surgeon who spirals into madness following a violent encounter with a patient. Luc Vandal produces, and the cast includes Christian Bégin, Sandra Dumaresq, Guy Thauvette, and William Monette.
"This has elements of Rosemary's Baby and The Shining," Poirier said. "Robert is referencing Fritz Lang and F. W. Murnau and films from the German Expressionism movement."
New sales titles include Drake Doremus's Newness, the Millennial romance starring Nicolas Hoult and Laia Costa that premiered at Sundance.
Poirier said Doremus's latest drama was "an important film to understand how our youth is dealing with sex in general."
Seville International will continue sales and show new images from the shoot of Xavier Dolan's The Death And Life Of John F. Donovan starring Kit Harington, Natalie Portman, and Jessica Chastain, as well as Ken Scott's post-Second World War drama Hana's Suitcase.