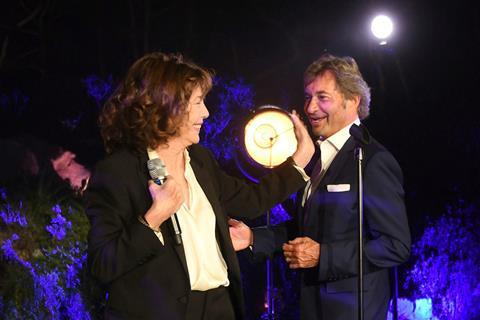 Iconic British-French Singer Jane Birkin serenaded Patrick Wachsberger at a swanky party on Friday night in honour of the outgoing Lionsgate executive who has reigned over the Cannes sales scene for decades.
Black Panther director Ryan Coogler, Sicario director Denis Villeneuve and star Benico del Toro were among hundreds of luminaries from the industry including chairman Jim Gianopulos who turned up in appreciation of Wachsberger.
The French executive ran through a whistle-stop tour of his career, reminiscing about Pelle The Conqueror at Odyssey, through the franchise-building days of Summit Entertainment with the likes of The Hunger Games, and finally to Lionsgate, where he has worked for the past six-and-a-half years.
And in case anybody needed reminding, Wachsberger, whose energy and vitality remain undiminshed after decades at the top of the business, does not plan to put his feet up.
"I want to do a lot of things between Lionsgate and the pearly gates," Wachsberger told guests.