Romania was the big winner at Vilnius' Kino Pavasaris (Cinema Spring) festival with Tudor Cristian Jurgiu's feature debut Japanese Dog was named Best Film in the New Europe - New Names competition.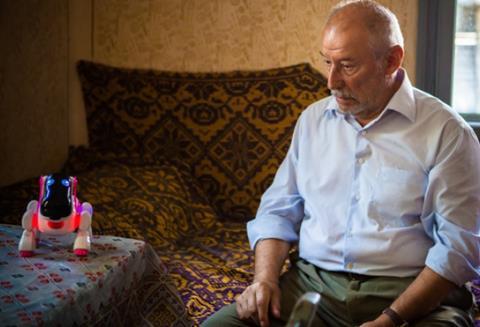 A Romanian producer present in Vilnius expressed the hope that this latest success - after winning veteran actor Viktor Rebengiuc a Gopo Award in Bucharest last month - would spur his national film fund CNC on to showing more support for its filmmakers.
However, Romania's filmmaking community is still waiting in vain for the CNC to announce the results of its latest competition for funding of film projects.
Awards for Blind Dates, Ida
The competition jury of Japanese actress Kaori Momoi, Latvian film-maker Laila Pakalnina, and festival programmers Verena von Stackelberg, Ludmila Cvikova and Dimitris Kerkinos, gave their Best Director statuette to Levan Koguashvili's Blind Dates.
The acting honours went to Igor Samobor, the new teacher in Rok Bicek's Class Enemy, and Michaela Bendulová in Juraj Lehotský's Miracle.
The new competition section Baltic Gaze, whose jury included programmers from the Berlinale, San Sebastian, Minsk, Karlovy Vary and Cluj-Napoca, awarded its main prize for Best Film to Natalia Meschaninova's feature debut The Hope Factory.
UK-based Paul Pawlikowski can now add the trophy for Best Director to the growing collection of awards already amassed by his much-praised Ida, and the Baltic Gaze's two acting prizes went to Alexandra Finder, the female lead in Philip Gröning's The Police Officer's Wife, and Lauri Lagle for his performance in Veiko Ounpuu's Free Range.
Other prizes included the CICAE Jury's Art Cinema Award for Class Enemy by Slovenia's Rok Bicek, the Audience Award for Hany Abu-Assad's Omar and the Short Film Award to Matús Vizár's animation film Pandas.
Meeting Point Vilnius presents projects
At the fifth edition of Vilnius' industry event, Meeting Point Vilnius, 'coming soon' presentations were made of projects from the three Baltic states at various stages of development or production.
They included from Estonia:
* Andre and Katrin Maimik's coming of age tale Cherry Tobacco, produced by Kuukulgur Film, now looking for sales and festivals;
* Urmas Eero Liiv's Ghost Mountaineer, based on actual bloodcurdling events in the Siberian mountains 25 years ago, produced by Anneli Ahven of Kopli Kinokompanii this year;
* Artist Jaan Toomik's feature debut Landscape With Many Moons, produced by Ivo Felt's Allfilm with Finland's Making Movies.
Latvia was represented by, among others:
* Aik Karapetian's horror film à la Shining, The Man In The Orange Jacket, also shown in an industry screening;
* Ilona Bruver's creative documentary Piano Player about the well-known tango music composer Oscar Strock in the 1920s,
while Lithuanian projects included:
* Ignas Jonynas' thriller Dancers Without Defects which was pitched at last month's Sofia Meetings;
* Allan van O.T. Andersen's coming-of-age thriller Escaping Sunshine which won the Best Pitch award at the Baltic Event in 2012 and has attracted San Fu Maltha's FuWorks as Dutch co-producer to the co-production with Lithuania's ERA Film and Denmark's Beofilm. Shooting is scheduled for summer 2014;
* Alanté Kavaité's drama Sanguilé, co-produced between Lithuania, France and The Netherlands, has Films Distribution handling international sales outside of the Baltic states;
* Veteran Lithuanian director Algimantas Puipa's Garden Of Eden, a drama set in a Lithuania in the future, to begin shooting for Studija 2 this summer;
* Lithuania's first foray into the horror genre with Ricardus Matacius' psychological drama The Cellar by DalmaCin Pictures.
International guests at this year's Meeting Point learnt that Lithuania's Ministry of Culture had pulled the plug on its financial support shortly before the 2014 edition. A petition with signatures was launched to persuade the ministry of the cultural and economic importance of such an event for the region's film industry.
Special event dedicated to Ukraine
Vilnius' Industry Office also organised a special event at short notice for a screening of the #Babylon'13 collection of short films and reflections made by young Ukrainian film-makers during the protests this winter on Kiev's Maidan Square and elsewhere in Ukraine.
Director Larysa Artiugina, one of the initiative's coordinators, told the audience on Wednesday evening that the film-makers would continue chronicling events in their country with their cameras, two of their group having filmed during last month's referendum on the Crimean peninsula.
Prague's Febiofest had also shown solidarity with its Ukrainian colleagues last month by presenting a selection of shorts by young film students as part of its opening evening programme.
Other news
Slovakia focus at Wiesbaden's goEast Festival
Contemporary Slovakian cinema is in the spotlight at this year's goEast Festival of Central and East European Cinema (April 9-15, 2014), which will open with Paul Pawlikowski's award-winning Ida.
The focus includes Peter Kerekés' Velvet Terrorists, Martin Sulik's The City Of The Sun, Zuzana Liová's The House and Jana Mináriková's Human Fish, with a special screening of the 1965 cult film Before Tonight Is Over in memory of the director Peter Solan who died last September.
Apart from Ida, goEast's feature film competition includes Yusup Razykov's Shame, Levan Koguashvili's Blind Dates, Serik Aprymov's Little Brother and the world premiere of Hungarian director Yvonne Kerékgyártó's pacy coming of age story Free Entry – One Day Of Betty.
The documentary competition will feature Viktar Dashuk's Temptation, Ester Hajdú's Judgment in Hungary, and an 'out of competition' screening of the omnibus film Ukraine_Voices by nine young Ukrainian film-makers presented as a world premiere by the project's initiator Dmytro Tiazhlov, who is also a member of the goEast International Jury this year.
Other sections include a portrait in nine films of the Polish director Malgorzata Szumowska (In The Name Of …), treasures from the National Film Archive of Bosnia and Herzegovina, and a sidebar accompanying the parallel symposium on the Polish New Wave of the 1960s.
Bosch Ade
This year's edition of goEast will see the festival bidding a sad farewell to the Robert Bosch Foundation's Co-Production Prize for projects between Germany and Eastern Europe.
Twelve nominated teams will pitch their projects to an international jury in the hope that they will be one of three projects awarded up to €70,000 towards the production of an animation, documentary or fiction short film.
'Work in progress' will be shown of films by three previous prize-winners from Georgia, Kosovo and Bosnia and Herzegovina who have co-produced their projects with German partners.
TIFF focus on disappearing cinemas
The 2014 edition of the Transilvania International Film Festival (TIFF) in Romania's Cluj-Napoca (May 30 - June 8) will have a special focus on the disappearance of cinemas around the country and in the region with a selection of films and the screening of the documentary Cinema, Mon Amour produced for the event.
In addition, TIFF programme director Mihai Chirilov, who was one of the jury members in the new Baltic Gaze competition, revealed to ScreenDaily that the festival will include special programmes dedicated to Czech, Irish and Young German Cinema.