The Jeonju Project Market's top prize was awarded to Jeon Jeehee's Kukdo Theatre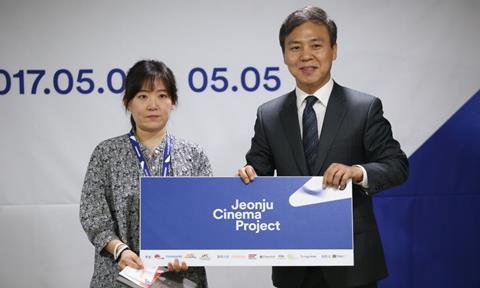 The 18th Jeonju International Film Festival (JIFF) closed today with a record number of sold-out screenings and the Jeonju Project Market's top JCP Award going to Jeon Jeehee's Kukdo Theatre yesterday (May 5).
JIFF estimated a new record of 270 sold-out screenings and 79,000 admissions. This is up from last year's record of 222 sold-out screenings and 71,093 admissions.
Running April 27-May 6, this year's festival benefited from multiple public holidays: May Day on Monday, May 1, Buddha's Birthday on May 3 and Children's Day on Friday, May 5.
JIFF screened 229 films from 58 countries, up from last year's 211 from 45 countries, with 543 screenings, up 40 from last year.
Sold-out screenings included the opening and closing films, On Body And Soul and Survival Family respectively, as well as International Competition best picture prize winner The Park.
The JIFF-produced Jeonju Cinema Project (JCP), this year a trio of Korean independent films - Lee Chang-jae's Roh Moo-hyun documentary Our President, Kim Yanghee's drama The Poet And The Boy starring Yang Ik-june, and Kim Daehwan's drama The First Lap - all sold out as well.
Supporting freedom of expression
Another packed session was for the world premiere of Korean filmmaker Im Kwon-taek's partially-shot film Bhiksuni, which was forced to shut down after shooting only about one-fifth of its script in 1984 due to political and religious strife during the military dictatorship.
Surviving rushes were recently discovered at production company Taehung Pictures and remastered by the Korean Film Archive. JIFF shot a short documentary of interviews to accompany the film which screened primarily without sound.
This was followed by a cinema class with the director, the film's star Kim Ji-mee and scriptwriter Song Gil-han. Explaining how the large-scale film following the struggles of a female Buddhist monk was shut down and the effect that had on their careers and psyches, they urged the younger filmmakers in the audience not to give into oppression - also a relevant issue in contemporary South Korea, which has been rocked by allegations of a presidential blacklist of artists.
In addition to Bhiksuni and JCP film Our President, the festival selection overall focused on freedom of expression, showcasing films that elsewhere might be controversial such as the Park Geun-hye supporters documentary Mis-President, anti-THAAD missile defence system documentary Blue Butterfly Effect, which won the Documentary Prize, and Liberation Day, a music documentary showing censorship and control in North Korea.
Project market winners
The Jeonju Project Market (JPM) this year introduced the Jeonju Cinema Fund which awarded KW10m ($8,800) to seven films. The project market's top JCP Award went to Jeon Jeehee's Kukdo Theatre, a drama about a struggling youth who finds solace in an old theatre.
The film also picked up the TV5MONDE Award for development support, the JJFC Award for equipment and location support and the Furmo DT Award for subtitling support.
The project shared the three awards respectively with Lee Sang-min's Sorrow, Na Young-kil's The Loaches and Kim Jae-hwan's Poets Young At Heart, which also shared the Audience Award with Lee Kang-hyun's Mappers.
The JICA Award for sound mastering support went to Park Inkyeong's About The Miracle and Sung Jihae's Dandong.