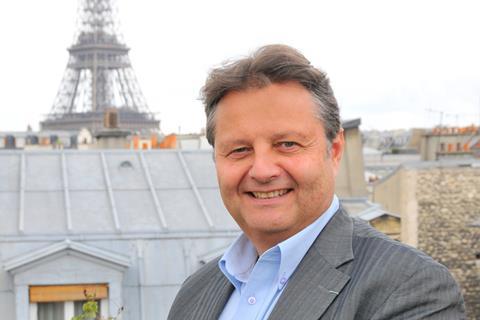 Jérôme Paillard, executive director of the Cannes Marché du Film, is catching his breath after a frenetic two months setting up this year's online market, which ran last week from June 22 to 26.
The unique digital version was created to replace the traditional physical edition in May, which was cancelled along with its parent event the Cannes Film Festival due to the Covid-19 pandemic.
According to initial Marché du Film figures, the online market involved 323 virtual booths, 3,500 films and projects, 1,235 screenings and drew 10,002 participants.
Paillard has yet to do a deep debrief and audit with his team but he talked to Screen about his initial impressions.
Overall, how do you believe everything went?
We feel it was a success given the challenges we were facing. We pulled it together in just two months, initially not knowing exactly where we were going, how the industry would react or exactly how the technical solutions we were coming up with would work. I think the end result went above and beyond most people's expectations.
In terms of how much business got done, we'll get a better idea later on but on the basis of the messages we received from sales agents, buyers and producers most people were pleasantly surprised by their experiences. People came in with reasonable expectations and left broadly happy.
You would normally have been running around the Palais and Cannes to meet and greet attendees. What were you doing this year? Were you working from home or in the Marché offices in Paris?
We had a team of 35 people working behind the scenes. My role was mainly operational this year, making sure the team knew what it was doing and that everything was running smoothly. We ran some 250 events over five days, so it was all hands to the pump and even I was getting involved in running some of the individual conferences.
We were working out of the festival and market headquarters in Paris. There were fewer festival staff coming in so we were able to spread ourselves out and commandeer some of their offices, which helped for social distancing. We set up five makeshift studios for all the conferences.
According to the market's initial figures, there were 323 virtual booths. How did this compare with the physical market?
It's hard to compare like for like because only sellers and institutions were taking stands and in a normal year there are companies in other fields such as technical equipment and software too. I would say we had about 80% of our usual sellers taking stands this year.
What was the geographical split of the some 10,000 participants?
It wasn't dissimilar from attendance at the normal physical markets. There were a few more Europeans, but slightly less Asians, particularly from China. But elsewhere was pretty much as normal with Latin American participants accounting for roughly 4% of the attendees and the US, around 20%.
The event spanned several time zones from Asia to the US. Was it open 24 hours a day?
There would be a pause in activity between the end of the day in Los Angeles and New Zealand waking up but the peak of activity was generally the end of the morning in Europe and then again at the end of the afternoon, early evening as the US opened up.
How did the agency-led platform in US fit into this dynamic?
We worked well together. In reality, it was exactly like a physical edition of Cannes. The projects sold on the agency-led platform were the sorts of projects that are normally presented in special presentations in the salons of the big hotels. We talked a lot to CAA. We had no interest in going up against one another. On the contrary, we worked hand in hand to ensure the experience was good as possible for the participants.
What's interesting is that all the announcements and deals done last week, whether they were under the umbrella of the agency platform or the Marché, are being referred to as Cannes deals, from Will Smith's project Emancipation to Cannes 2020 label title Gagarine.
Business has reportedly continued into this week. Do you think it would have made sense to extend the virtual market beyond five days?
It would have been difficult to go longer because it would have meant pushing on into the weekend and I don't think people wanted to work on a Saturday or the Sunday for a virtual market, even if that's part and parcel of a physical Cannes. It made sense to concentrate everything in five days.
In terms of the offering of films, were they mainly Cannes 2020 titles, Berlin repeats, special mid-range sales acquisitions for the market?
There was everything but the most important thing to note is that there were 42,000 admissions into the virtual theatres, which is on a par with the figures of the physical market. That gives an average of around 40 spectators per screening. The most popular titles were the Cannes 2020 label films as well as promo reel screenings for the likes of Studiocanal, TF1, WestEnd and HanWay.
Some of these attracted more than 300 spectators – which is tantamount to two or three market screenings in Cannes. In another finding which we can't monitor so easily in the physical market, viewers were sitting through a good chunk of the films, up to 60 to 80 minutes. I think this shows that it made sense for Thierry Frémaux to announce an Official Selection this year.
The other outcome we're pleased about is the good attendance of the Producers' Network events as well as the conferences, which were drawing audiences of between 200 to 400 people which is similar to the numbers we get onsite.
Why were institutions made to pay to participate in the market while sales agents were able to attend for free?
At the very beginning of creating the online edition an important consideration was how we were going to finance the operation. We had meetings about this with many of the state film institutions and bodies, such as the BFI and Unifrance.
We were all in agreement something had to be done to help the sales companies which were struggling at the time, and many institutions were willing to play their part in supporting the market, even if they could not support the sales agents directly, especially as they already had budgets set aside for Cannes.
European Film Promotion helped us with this, connecting us with a number of bodies. We were very flexible and there were some institutions that paid very little. We tried to adapt to each situation in a year that is economically difficult for everyone including us.
There were a few gripes about technological glitches, especially related to accessing the conferences and some of the integrated apps. Is there anything you might have changed on this score?
I can understand people's frustrations but you've got to look at the timeframe within which we were working. It was impossible to build everything in-house from scratch and nor would it necessarily have made sense.
We built the Marché du Film, of course, but then attempted to integrate existing technology such as Cinando, for the database and screenings, and Talque, off which we run our Match&Meet networking app, which has been up and running for more than a year. There were a few teething problems but these got fixed along the way.
What happens next, both in the short term and longer term?
This online edition will remain open for the rest of the summer. People will be able to watch replays of the conferences, consult the seller pages and some of the films will be available to screen on catch-up.
Next year, in spite of the success of this online edition, we would prefer to meet up again in Cannes for real. But we are already thinking about how we can continue parts of this digital experience. It's been great to welcome professionals who don't normally attend Cannes for budgetary reasons and digital markets could become more relevant as people try to cut their carbon footprints.
What aspects of this digital edition might be integrated into future physical editions?
Everyone is talking about hybrid markets but it's going to take some thought on how to pull it off successfully. Breakfast meetings where you've got four people physically in attendance and then two screens on the table won't really work. It could be possible, however, for people to participate virtually in our screenings, conferences and pitching sessions from afar in the future.
We have another market ahead of us before the next Cannes in the shape of Ventana Sur [the annual Latin American market the Marché du Film organises in Buenos Aires in late November in partnership with the Argentine Film Institute INCAA]. It could be that it will be another repetition of what we did for Cannes. I am also curious to see what happens at the films events of the late summer and autumn.