EXCLUSIVE: The Paz brothers are eyeing their first European production, titled Plan A.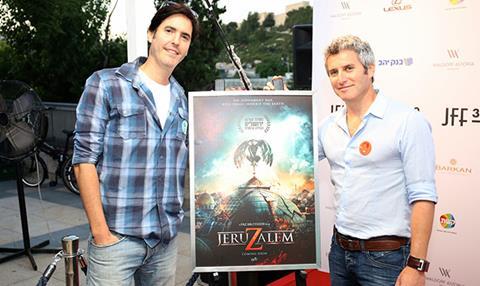 Yoav and Doron Paz, the directing duo whose apocalyptic horror film JeruZalem had a work-in-progress screening at Jerusalem Film Festival (July 9-19) on Friday, are planning their first European production.
The film, which has a completed script and is titled Plan A, will be a historical thriller based on the Nakam, the Jewish revenge squad that targeted Nazi war criminals at the end of the Second World War; it promises to tell the real story behind Quentin Tarantino's 2009 film Inglourious Basterds.
"It's an amazing true story that not a lot of people in Israel know about," said Yoav Paz. "It's about Jews after the Second World War who, after going through the Holocaust, through hell, decide they can't go on with their lives as if nothing happened and decide to take justice into their own hands."
Producers Avraham Pirchi and Chilik Michaeli of major Israeli production house United Channels Movies (UCM), who backed Eran Riklis's A Borrowed Identity (formerly Dancing Arabs) and Big Bad Wolves and also have Evgeny Ruman's The Man In The Wall at this year's festival, are attached to the project, along with producers in Germany and Poland. Deals are being finalised for international funding and the Paz brothers are aiming to shoot in 2016 at locations where some of the actual events involving the Nakam took place in Germany and eastern Europe.
JeruZalem, their horror film shot at locations around Israel, has been one of the standout titles at the festival. It will receive its full premiere at Montreal's Fantasia on July 22 before travelling to the UK's genre showcase FrightFest in August and Busan International Film Festival in October.