EXCLUSIVE: Fortitude International to launch sales in Cannes.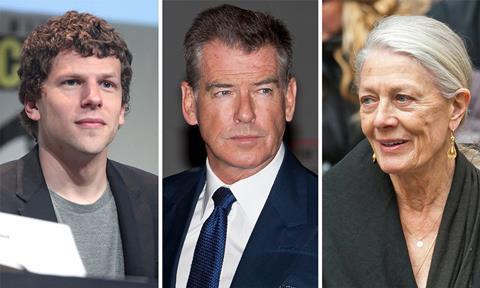 Fortitude International will introduce international buyers in Cannes to The Medusa starring Jesse Eisenberg, Pierce Brosnan and Vanessa Redgrave.
Peter Webber will direct his second film based on a renowned work of art after 2003's Girl With A Pearl Earring, named after the painting by 17th century Dutch master Johannes Vermeer.
The Medusa stars Eisenberg as Theodore Gericault, the early 19th century pioneer of the French Romantic movement whose masterpiece The Raft Of The Medusa was inspired by the sinking of a French frigate.
Survivors of the wreck spoke of incompetence and cannibalism and the painting stirred anti-royalist sentiment at the time of King Louis XVIII's rule.
Brosnan will portray Gericault's uncle Caruel, the artist's nemesis who is hell-bent on ruining him, while Redgrave plays the painter's anti-royalist innkeeper.
Sophia Al-Maria adapted the screenplay from Jonathan Miles's book The Wreck Of The Medusa.
Production is scheduled to begin by early autumn and additional casting are expected to be announced in due course.
Raffaella De Laurentiis of Raffaella Productions and Das Films' Sriram Das produce alongside Mark Collins, while Nadine de Barros and Robert Ogden Barnum of Fortitude International and Andrea Chung will act as executive producers.
"Before the sinking of the Titanic, the story of The Medusa was the greatest sea disaster people had heard of," De Laurentiis said. "I was captivated the first time I saw Gericault's painting of it in the Louvre and for the next twenty years I wanted to see it become a film.

"So, it was a joy to discover that Peter Webber had conceived of a way to tell the story from the painter's perspective that made it emotional and poignant within the epic scope of the tragedy."
Fortitude International's slate includes Sundance selection Marjorie Prime with Jon Hamm; Fever Heart starring Alexander Skarsgaard and Cara Delevingne; Nomis with Henry Cavill and Ben Kingsley; Ideal Home starring Steve Coogan and Paul Rudd; and Drunk Parents with Alec Baldwin and Salma Hayek.