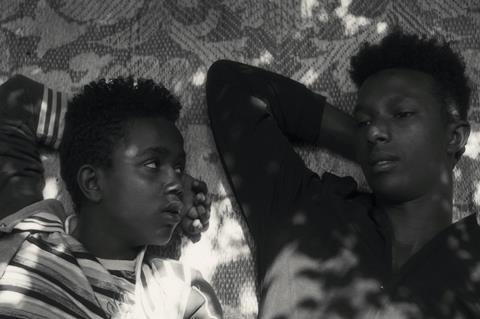 Jessica Beshir's feature debut Faya Dayi has won the grand jury prize at Swiss documentary festival Visions Du Réel (April 15-24).
The award, which includes 20,000CHF ($21,900), was announced at a ceremony in the Swiss lakeside town on Nyon on Saturday (April 24).
Faya Dayi, which explores the role that the narcotic khat plant plays in the economy and culture of Ethiopia, also picked up the Fipresci award.
Scroll down for more winners
The US-Ethiopia-Qatar co-production marks the directorial debut of US-based Mexican-Ethiopian director Beshir and previously premiered in competition at Sundance. Mubi recently acquired all rights to the documentary for the UK and Ireland, Latin America, Italy, France, Germany, Turkey and India.
Special jury awards, each worth 5,000CHF ($5,500) went to 1970 by Poland's Tomasz Wolski and Les Enfants Terribles by Paris-based Middle Eastern filmmaker Ahmet Necdet Cupur.
In the National Competition, the main prize and 15,000CHF ($16,400) went to Nostromo by Fisnik Maxville. The awards marked the official close of the 52nd edition of VdR, although additional screenings have been planned over the coming days.
Upbeat mood
As the 10-day event wrapped, the mood in Nyon was upbeat. Late changes in Swiss government Covid regulations had enabled the festival to hold public screenings - something that initially was not going to be permitted. Professional delegates, filmmakers and students were also in town, with international visitors allowed to attend the festival without having to quarantine.
There were fewer guests than normal but this was a proper physical festival with screenings for professionals. Meanwhile, public screenings began on Thursday (April 21) and the festival has been extended by several days to allow these to continue.
"There were approximately 170 guests and many of the directors of the films screening have come, even ones from New York and Argentina," said VdR festival director Emilie Bujès.
International visitors included US filmmaker Pacho Velez, who presented his film Searchers, about online dating in New York. The film premiered at Sundance but Nyon was the first festival at which the film had actually screened in a cinema.
Also in town was young Argentinean director Juan Martín Hsu, whose film The Moon Represents My Heart received its world premiere in the International Feature Film Competition.
For some of the professionals at VdR, who had not travelled anywhere during the pandemic, attending in itself proved an emotional experience. Audiences at screenings were small and spectators were in masks but accredited filmmakers and guests were delighted to be there anyway.
"I arrived on Sunday night and went into a movie theatre for the first time in a year," said French director Julie Ramage, who presented her short documentary How To Order Online. "Actually, I cried… it was the first time I could be in a movie theatre. I also met other filmmakers. I was very, very moved."
Among those who made it to Nyon were French writer and director Emmanuel Carrère, who gave a masterclass and received the festival's Honorary Award.
Carrère revealed that his new film Between Two Worlds is now complete and likely to surface at a festival later this year. This is an adaptation of Florence Aubenas's bestselling non-fiction book Le Quai de Ouistreham in which the author recounts her experiences pretending to be a housewife living on the breadline in Normandy. Juliette Binoche stars in a cast comprising mostly non-professionals.
Two further masterclasses, from Italian director Pietro Marcello and Mexican-Salvadorian filmmaker Tatiana Huezo, were conducted online.
Plans for future editions
Visions briefly overlapped with Danish documentary event CPH:DOX, which was pushed into April for a better chance of holding physical events during the pandemic. This has led to some scheduling issues but Bujès spoke of the "polite, kind and friendly exchange" between the two festivals, which have shared certain titles.
Bujès confirmed that future editions of the festival will retain some virtual elements after the lessons learned over the past 12 months. "Of course, there is no way back," she added. "To have only the virtual [festival] is a nightmare and a sad solution for all of us. On the other side, we have found out that [staging the festival online] allows us to touch other people, both in terms of audiences and in terms of industry."
Madeline Robert, the festival's head of industry, also hailed what she believes to have been a successful edition. There were around 700 "decision makers" participating in the industry activities - a higher number than there would have been if the festival had been happening only physically. Robert also pointed to the increasing number of North American participants, among them delegates from the Sundance Institute. Heavyweight figures like Sundance festival director Tabitha Jackson and sales executive Jason Ishikawa from US outfit Cinetic Media took part in industry events.
Leading sales agents were also involved, among them representatives from companies including Dogwoof, Cat & Docs, Rise and Shine, Deckert Distribution, and The Party Film Sales. Meanwhile, among the big names from the documentary world with new projects were Mark Cousins whose The Story Of Looking was presented as a work in progress, ahead of it being announced as the closing film of Sheffield Doc/Fest.
Some new industry trends have become noticeable during VdR. For example, with local funding opportunities drying up due to economic turbulence at home, there have been increasing numbers of Latin American filmmakers looking for funding and coproduction opportunities with European partners.
The main emotion as the festival drew to a close was one of relief that the festival had taken place in the way that it did, with physical screenings attended by the directors.
"I have to say that the last few days have been enchanting," Bujès told Screendaily, speaking as the festival drew to a close. "Those guests that are here are really, really happy and excited. Even if it is a smaller scale, there is something about the joy of being in theatres, watching films together and being able to speak about them, even if it is with masks and distancing."
Visions du Réel 2021 awards
International Feature Film Competition
Grand Jury Prize
Faya Dayi
Dir: Jessica Beshir
Special Jury Award
1970
Dir: Tomasz Wolski; and
Les Enfants Terribles
Dir: Ahmet Necdet Cupur
Burning Lights Competition
Prize in the Burning Lights Competition
Looking For Horses
Dir: Stefan Pavlović
Special Jury Award
Splinters
Dir: Natalia Garayalde
Special Mention
The Great Void
Dir: Sebastian Mez
National Competition
Prize in the National Competition
Nostromo
Dir: Fisnik Maxville
Special Jury Award
Chronicles of That Time
Dirs: Maria Iorio, Raphaël Cuomo