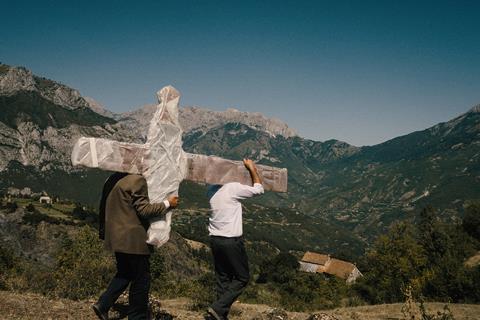 A glance through the programmes of the three big international doc film festivals this spring, CPH:DOX, Visions du Reél and Hot Docs, and they are jam-packed with creative documentaries.
The hugely varied fare range from comic-experimental features such as Guido Hendrikx's A Man And A Camera, in which the filmmaker rings random stranger's doorbells to see how they will react, to Marija Zidar's tales of Albanian blood feuds in Reconciliation. Both are screening at CPH:DOX.
But distributors say many of these documentaries will struggle for any meaningful theatrical exposure outside the festival circuit – a challenge that has been exacerbated by the pandemic.
"When it comes to theatrical distribution, it is really a dead market at the moment," says Anais Clanet, founder of Paris-based sales company Reservoir Docs. She pointed to the logjam caused by lockdowns and cinema closures. Both sales agents and distributors have backlogs of titles they have not been able to sell or release over the past year. With distributors now looking for brand new titles, there is concern the older documentaries may have missed their moment.
There are reasons to be optimistic, mainly the brisk business done by non-fiction features at Sundance and during the Berlinale European Film Market. and the Oscar success last year of Macedonian bee keeping doc Honeyland, sold widely by Deckert Distribution, and the striking performance this year of Alexander Nanau's Collective, sold by Cinephil and nominated for both best documentary and best international feature film Oscars.
US distributors including Neon, Magnolia and Sony Pictures Classics, which last year picked up documentaries including The Truffle Hunters and Salvatore - Shoemaker of Dreams, continue to launch selected creative features into the North American marketplace with some success. And hopes remain high for another Cinephil title, Victor Kossakovsky's Gunda, which has just been released by Neon in the US, 14 months after its Berlinale premiere.
The streamers, including Netflix, which is behind Bafta-winner and Oscar nominee My Octopus Teacher, and Amazon, which backed Garrett Bradley's Oscar nominee Time, are also investing in and acquiring feature docs. However, there are still only a handful of films that make it through into mainstream distribution compared to what is made and the numbers showcased at the doc fests.
Festivals as distribution platforms
One well-placed observer is Wouter Jansen of Vienna-based sales agent Square Eyes, which handles author-driven documentaries and dramas. Together with Dutch partners Guido Hendrikx and Ena Sendijarević, director of IFFR award-winning (narrative) feature Take Me Somewhere Nice, Jansen has recently set up new production outfit Aventura.
"These are the films for which theatrical distributors take a risk," Jansen says of the creative documentaries that are being launched this spring on the festival circuit. "But you just know that they are not taking that risk right now and already have some [other] films which are a bit easier to market lined up for the coming period."
Some sales agents are even being told by their theatrical distributor clients that it is not a good time for "creative, experimental" documentary.
Even before the pandemic, TV buyers were wary about acquiring such titles and they are even more cautious now.
However, Jansen does point to one upside. As others have also increasingly acknowledged, the festival circuit is becoming a viable alternative distribution platform for this kind of work.
"A lot of the festivals have now expanded into a VoD offer," he says. "What you've seen is that festivals pay a bigger screening fee or do a revenue share [with the rights holders]."
"The festival bubble has become its own market," agrees Esther van Messel, founder and CEO of Zurich-based sales agent, producer and distributor First Hand Films. "If you have a big festival and then 50 smaller festivals, and each one pays you between $500 and $1,000 as a screening fee –which they should, you know – that is a market."
Directors may be frustrated that their documentaries are not being seen on the big screen but the films are enjoying exposure on the virtual festival circuit - and selling tickets in the process.
However, the festivals are "shrinking" their selection during the pandemic. This means increasing competition to secure festival slots. Meanwhile, as a result of ongoing pandemic restrictions, documentarians have been stuck at home, unable to travel for research or shooting purposes. While this has prompted creative solutions, such as films being shot remotely or by proxy foreign crews, as well as a surge in archive-based documentaries, the slowdown could eventually lead to a shortfall in new "creative" documentary – the opposite of the current situation in which there appears to be a glut.