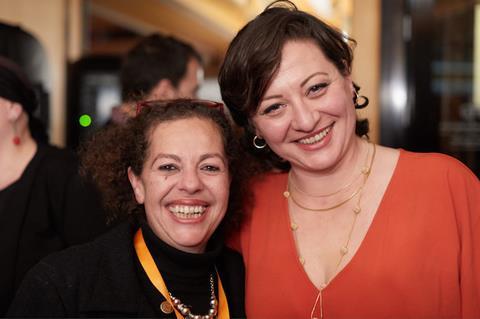 The renowned French-Egyptian documentary producer and director Jihan El-Tahri has been appointed director of DOX BOX, the Berlin-based organisation devoted to supporting the development of a sustainable documentary scene across the Arab world.
She replaces co-founder and long-time director Diana El Jeiroudi, who is leaving to focus on personal projects as a producer and director, including her documentary project Republic Of Silence. She will remain a member of the DOX BOX general assembly.
El-Tahri started her career as a foreign correspondent covering Middle East politics before moving into directing and producing documentaries for a number of broadcast organisations including BBC, PBS and Arte.
Her most recent documentary Nasser screened at the Toronto International Film Festival in 2017. Her further credits include Behind the Rainbow, Cuba, an African Odyssey, and the Emmy-nominated House Of Saud.
She is a member of the Academy (AMPAS) documentary section and is engaged in various associations and institutions working with African cinema.
DOX BOX announced El-Tahri's appointment at a special event on Monday evening (Feb 11) in Berlin where it also bid farewell and paid tribute to its co-founder and long-time director El Jeiroudi.
The Syrian-born producer and filmmaker launched the body in 2014, out of the embers of the DOX BOX International Documentary Film Festival. She ran the latter event with her partner Orwa Nyrabia from 2008 until they fled the country in 2012. Nyrabia is now the artistic director of the International Documentary Festival Amsterdam (IDFA).
The organisation offers a range of support schemes, conducts studies and research, and offers access to knowledge and networking activities.
"What DOX BOX achieved in the Arab region and internationally under the leadership of Diana is remarkable", says board member Andrea Kuhn. "It is sad to see Diana leave as director. We will always be grateful for all the passion, creativity and skill she has poured into the organisation."
DOX BOX has just opened registration for the second edition of the Documentary Convention, a joint initiative with the Arab Fund for Arts and Culture (AFAC), taking place in Leipzig from April 15-17.
The conference is focused on challenges and issues facing the Arab documentary scene, and will tackle subjects such as ethical co-production, distribution and heritage.
Partners on the event include Dok Leipzig, IDFA Bertha Fund, International Documentary Association and the Sundance Film Festival.
"The success of the first edition in 2018 confirms the need for spaces where the status quo of how the industry works is challenged and critically debated," said Marion Schmidt, manager of the Documentary Convention.