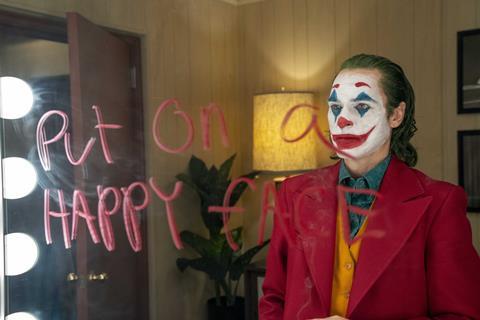 The UK home entertainment sector grew by 26% in 2020 as audiences stayed home during the pandemic, generating a total market value of £3.3bn ($4.49bn).
Warner Bros' Joker led the pack, selling more than 1.4 million copies across disc, EST (electronic sell-through) and TVOD (transactional video-on-demand).
Figures released by the British Association for Screen Entertainment (Base) revealed that EST made substantial gains, with 14.5% year-on-year growth across film and TV.
TVOD spend increased 24%, with the number of consumers buying and renting across the video category growing 14% between March and November to 12.9 million as cinemas closed and more time was spent at home due to Covid-19 lockdowns.
Streaming services grew by 42% and now account for 74% of the total market value. In total, 23% of British households signed up to a subscription service during the first quarter of the year, which included the launch of Disney+ in the territory on March 24.
Film EST alone experienced a 27% growth in volume and 16% growth in value, with digital formats accounting for more than 43% of the transactional market.
During the first 12-week lockdown, the share of spend for digital film was 45% of the total £138.6m retail disc and film EST spend. This was up from a 26% share across the same period in 2019 and largely continued post-lockdown, with digital film EST ending the year with 36% of spend, up from 26% in 2019.
Top-performing titles
After setting box-office records during its theatrical release, Joker led the top-performing home entertainment titles overall.
It was followed by Disney's Frozen 2, with sales of 1.3 million. However, the animated sequel did top the EST chart, recording 500,400 sales while Joker ranked second with 337,100.
The top five was rounded out by Jumanji – The Next Level (1.1 million), 1917 (1.1 million) and Star Wars Episode IX – The Rise Of Skywalker (935,800).
Premium formats continued to make headway in the physical market, with Blu-ray sales now representing 30% of the disc market, up from just under 27% in 2019. 4K Ultra High Definition discs are also up 20% year-on-year, now holding a 23% share of all Blu-ray sales.