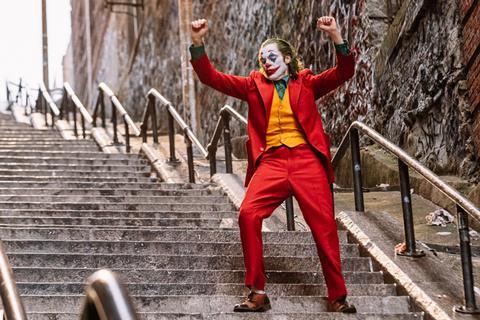 While there is no doubt that after last weekend's box office heroics Joker will still pack a punchline heading into its second weekend, it faces a considerable challenge from Gemini Man, which gets a big expansion in the coming days.
The Warner Bros hit stands at $222.2m internationally and $350.1m globally, marking an impressive gain since it stormed out of the gates last weekend to establish record October launches at the global, international, and North American box office on $248.2m, $152.2m, and $96.2m, respectively.
However Paramount Pictures International has high hopes for Gemini Man, the sci-fi from Ang Lee that stars Will Smith as an operative and Will Smith playing a cloned, younger version of himself with the aid of de-aging effects – albeit not the same effects as those used to make Robert De Niro et al look younger in Netflix's The Irishman.
Gemini Man grossed around $7m last weekend, mostly from France and Germany, and expands into a further 54 markets, day-and-date with North America. The heavyweights are the UK, Australia, Mexico, South Korea, Russia, Brazil, and Spain,
Ironically the two new major markets for Joker are France and Germany and these are two territories have traditionally rewarded superhero and comic book adaptations.
Warner Bros' It: Chapter Two has grossed $236.3m, Annabelle Comes Home $154.6m, Blinded By The Light $1.5m from Warner Bros territories, and The Goldfinch $3.6m heading into Brazil.
Meanwhile Abominable from DreamWorks Animation and Pearl Studios is expected to march on. The family release stands at $32.5m through Universal Pictures International and opens in the UK, Spain, and Netherlands.
Yesterday has reached $72m and debuts in Japan, while R-rated comedy Good Boys on $25.9m opens in Mexico, Downton Abbey has reached $65,4m, and Italy hosts the debut of Brave Ragazze.
Fox / New Regency's Ad Astra starring Brad Pitt as an astronaut on a long-range trip to settle his father issues has amassed $70.1m through Walt Disney Studios Motion Pictures International.
Sony Pictures Releasing International's Once Upon A Time… In Hollywood has earned $225.3m ($222.7m from Sony and the $2.6m balance from Bona Film) and opens in China on October 25. The Angry Birds Movie 2 on $91.7m flies into France.