EXCLUSIVE: Off-beat romantic comedy set to premiere in Cannes Critics' Week.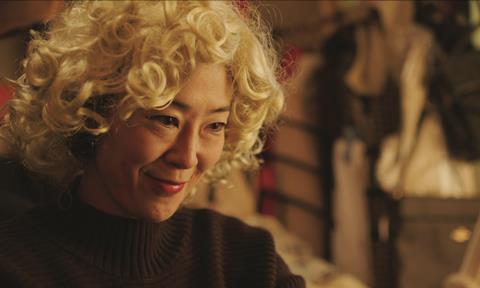 Paris-based Elle Driver has snapped up international sales on Atsuko Hirayanagi's off-beat comedy romance Oh Lucy! ahead of its premiere in Cannes Critics' Week.
Top Japanese actress Shinobu Terajima stars as Setsuko, a lonely, chain-smoking office worker in Tokyo, who brings fresh meaning to her life when she starts taking English lessons, dons a blond wig and adopts a new American persona called Lucy.
In the process, she also falls for her American English teacher played by Josh Hartnett. When he suddenly disappears, she teams up with her sister to track him down in a journey that will take them to some of the sleazier parts of outer Los Angeles.
The feature builds on Hirayanagi's short film of the same name which premiered in Cannes in 2014, after winning the second prize in the festival's Cinéfondation Selection initiative focused on shorts and medium-length works from film schools from around the world.
That work – starring a different cast from the new feature - went on to win the short film jury prize at Sundance in 2105 and played at more than 20 top festivals worldwide including SXSW and Toronto.
Shot between Tokyo and Los Angeles at the end of 2016, the feature is produced by Matchgirl Pictures; Gloria Sanchez Productions, Jessica Elbaum's female-focused off-shoot of Will Ferrell and Adam McKay's Gary Sanchez Productions, and Han West's Meridian Content with Japanese broadcaster NHK on board as a co-producer.
"From the second we saw Atsuko's short film, it was clear we were watching an original at work. Now to see it translated into a feature, Jessica, Will and I couldn't be more excited," commented McKay ahead of the film's upcoming premiere in Cannes.
The feature's selection in Critics' Week marks a Cannes debut for respected Japanese actress Terajima who won best actress at the Berlin Film Festival in 2010 for her performance in Kôji Wakamatsu's Caterpillar.
Other cast members include Kaho Minami (Kabukicho Love Hotel), Koji Yakusho (Babel) and Shioli Kutsuna, who plays the role of the niece and daughter.
Elle Driver is handling all international rights aside from North America, which is represented by Bec Smith at UTA, and Japan, where it has been acquired by Phantom Film for distribution and NHK for TV.
Read more:
Cannes 2017: Directors' Fortnight line-up
Cannes 2017: Official Selection in full
Cannes 2017: Critics' Week line-up