Sony Pictures Animation unveiled its slate through 2018 on Wednesday including new voice cast on previously announced features.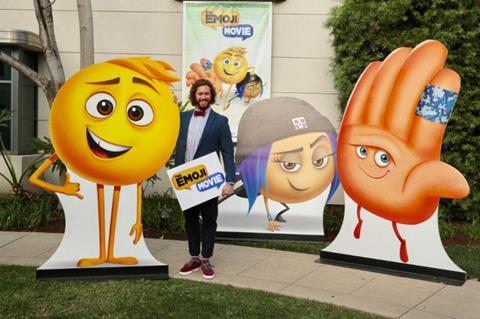 Kicking off the roster on April 7 is Smurfs: The Lost Village with new voice cast members Julia Roberts, Michelle Rodriguez, Ellie Kemper and Ariel Winter.
Gordon Ramsay is among a line-up of cameo performers alongside Gabriel Iglesias, Tituss Burgess, Jeff Dunham, Jake Johnson and director Kelly Asbury.
Previously announced voice cast includes Demi Lovato, Rainn Wilson, Joe Manganiello, Jack McBrayer, Danny Pudi and Mandy Patinkin.
The Emoji Movie is scheduled to open on August 4 and features new voice cast members Jennifer Coolidge, Maya Rudolph, Jake T. Austin and Patrick Stewart.
Previously announced voice cast includes T.J. Miller (pictured), James Corden, Ilana Glazer and Steven Wright. Tony Leondis directs.
The Star is due to arrive on November 10 and includes voice talent by Steven Yeun, Kelly Clarkson, Aidy Bryant, Keegan-Michael Key, Kristin Chenoweth, Anthony Anderson, Gabriel Iglesias, Ving Rhames, Delilah Rene, Kris Kristofferson, Gina Rodriguez and Zachary Levi, Oprah Winfrey, Tyler Perry, Tracy Morgan and Christopher Plummer.
Timothy Reckart directs the nativity story from the point of view of the animals.
Hotel Transylvania 3 is set to open on September 21, 2018, and features returning voice cast Adam Sandler, Selena Gomez and Andy Samberg.
Genndy Tartakovsky directs and has helmed the short Puppy, which involves characters from the Hotel Transylvania world and will debut before The Emoji Movie.
Sony plans to release Untitled Animated Spider-Man on December 21, 2018, directed by Phil Lord and Christopher Miller of The LEGO Movie fame. Miles Morales stars and Bob Persichetti directs from a screenplay by Lord.
Hamilton creator Lin-Manuel Miranda will write a number of songs for Vivo, which is scheduled for released on December 18, 2020. The project was originally set up at DreamWorks Animation and centres on an adventurous monkey. Kirk De Micco will direct from a screenplay by Quiara Alegría Hudes.
"We are proud of the artist-driven titles we have coming to the marketplace," said Sony Pictures Animation president Kristine Belson. "The abundance, variety and quality of the features are a testament to the wealth of creative talents who call Sony Pictures Animation their home."