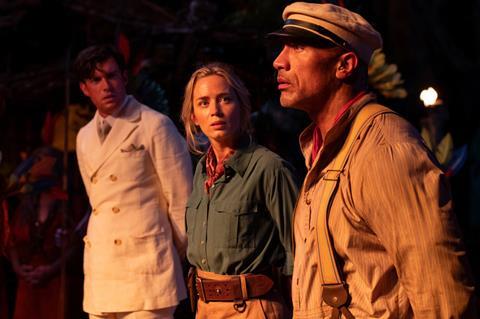 Worldwide Box Office July 30-August 1 2021
| Rank | Film (Distributor) | 3-day (World) | Cume (World) | 3-day (Int'l) | Cume (Int'l) | Territories |
| --- | --- | --- | --- | --- | --- | --- |
| 1 | Jungle Cruise (Disney) | $61.7m | $61.7m | $27.6m | $27.6m | 48 |
| 2 | Raging Fire (various) | $34.7m | $37.3m | $34.7m | $37.3m | 1 |
| 3 | Upcoming Summer (various) | $20.6m | $20.6m | $20.6m | $20.6m | 1 |
| 4 | Old (Universal) | $14.2m | $48.6m | $7.5m | $17.9m | 45 |
| 5 | Black Widow (Disney) | $14.1m | $343.5m | $7.7m | $176.5m | 49 |
Credit: Comscore, all figures estimates
Disney's 'Jungle Cruise' launches with $62m worldwide
UPDATED: Disney begins August with another global box office chart topper, Jungle Cruise, after having dominated much of July with Black Widow. The period action adventure, adapted from a Disney theme park ride, began with a confirmed $28.1m from 47 international markets and $34.2m in North America, combining for $61.8m worldwide.
The studio calculates that Disney+ subscribers paid an additional $30m to watch the film via Premier Access – income that Disney does not share with cinema owners.
Jungle Cruise opened as the top film in most of its markets, including key territories Italy, Russia, Australia and Mexico. It was the top non-local title in Japan, France and Netherlands.
UK and Ireland delivered the biggest international number for Jungle Cruise, with a $3.1m, despite the film not topping the chart in the territory. That's because The Suicide Squad also opened there, enjoying a select release in five markets ahead of the bigger global launch (see below). Russia/CIS ($3m), Japan ($2.1m), France ($1.8m) and Saudi Arabia ($1.4m) come next in the international league table for Jungle Cruise. In Saudi Arabia, that's the second-biggest opening ever for Disney, behind only Black Widow.
Australia, Jungle Cruise's sixth biggest market, delivered an estimated $1.2m. New South Wales and Queensland are now in lockdown, while Victoria and South Australia have just reopened, but with capacity restrictions. Japan extended its state of emergency from just Tokyo to an additional three populous prefectures.
Key markets that have not yet opened Jungle Cruise are China, Malaysia, Indonesia, Thailand, India, Philippines, Vietnam, Peru and South Africa. Those latter two territories open the film this coming weekend.
Set in the early 20th century, Dwayne Johnson stars as a river boat captain offering tourists jungle cruises in South America. He takes botanist Emily Blunt and her brother Jack Whitehall on an expedition to discover a mythical tree that can cure any illness. Jaume Collet-Serra (Orphan, Non-Stop, The Shallows) directs, and the cast also includes Edgar Ramirez, Jesse Plemons and Paul Giamatti.
Disney also has Black Widow on release. The Marvel film fell to fifth place in the global box office chart, mostly thanks to the arrival of Jungle Cruise and new titles in China Raging Fire and Upcoming Summer (see China Box Office report). Black Widow grossed an estimated $7.7m in international markets (down 51%) and $6.4m in North America (down 45%), combining for $14.1m worldwide. Global box office total is $344m.
'The Suicide Squad' begins with $7m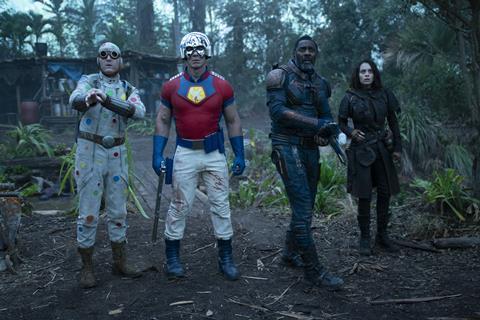 UPDATED: Warner Bros' The Suicide Squad has made a promising start in the UK and Ireland, France and three smaller markets, launching there ahead of the big global push this coming weekend. The DC Films title grossed an estimated $7.0m from the five territories, led by a chart-topping estimated $4.7m in UK.
France, where box office has fallen since the government introduced a new 'health pass' system on July 21, opened with $1.4m. Belgium, Switzerland and Turkey make up the rest of the tally.
The Suicide Squad lands in North America this coming weekend and 64 international territories, including all key markets except Japan (opening August 13).
Directed by James Gunn (both Guardians Of The Galaxy films), the DC title is a sequel/reboot of Suicide Squad – which grossed $747m worldwide in 2016.
Warner Bros also has Space Jam: A New Legacy, which falls to sixth place in the global chart. In international markets, the belated sequel to Space Jam enjoyed solid traction, declining just 33% in holdover markets, and delivering $8.9m for the weekend. International total is $60.8m, which adds to $60.7m in North America for a $120.1m global total.
UK and Ireland enjoyed another very strong hold, down just 7%, and was the top international territory, with $1.8m. Two weekends ago, when the film opened, the UK and Ireland (with $1.9m) was the third biggest territory, way behind Australia and Mexico.
UK and Ireland also now tops the international league table of cumulative totals for Space Jam: A New Legacy, with $9m – ahead of Australia ($8.1m), Mexico ($6.9m), Russia ($3.1m) and Spain ($2.9m).
In Japan, Warner Bros' Tokyo Revengers grossed $2.4m in its fourth weekend of play, taking the total so far to $25.1m. The live-action film is based on a Ken Wakui manga, which was also adapted into an anime TV series that premiered in April this year.
'Old' falls in North America and rises in international markets
UPDATED: A week ago, we reported that M Night Shyamalan's Old achieved third place in the global chart thanks to a strong $16.5m opening in North America, which combined with an estimated $6.5m debut from select international territories.
The second weekend sees the balance shift for the Universal release. Box office in North America took a big tumble, with $6.8m for the second weekend. In international markets, the weekend tally rises to $7.7m, boosted by openings in Spain ($1.3m), Germany ($649,000), Brazil ($270,000) and other markets. In holdover markets, Russia/CIS led the way with $1.1m for a $4.3m running total, ahead of UK and Ireland ($709,000 for $2.9m), Mexico ($507,000 for $1.8m) and France ($428,000 for $1.3m).
Also for Universal, Fast & Furious 9 added $8.7m in international markets, taking the international total to $473.8m, and the global tally to $642.3m. The film has now reached 52% of Fast & Furious 8's $1.24bn global total, and 85% of spinoff Hobbs & Shaw's $759m total.
Universal's busy global release slate also includes The Croods: A New Age (adding $4.1m at the weekend for a $206.2m global total); The Boss Baby: Family Business (a $3.7m weekend and a $70.7m global total); Spirit Untamed ($2.5m weekend and $34.4m global total); and The Forever Purge ($2.7m weekend and $63.6m global total).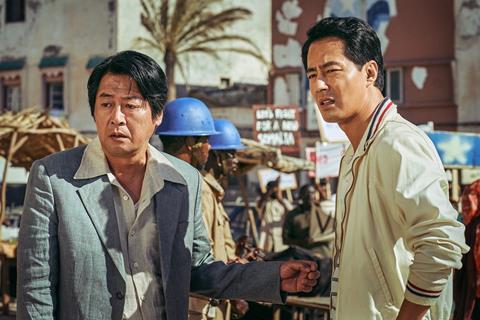 'Escape From Mogadishu' opens strong in South Korea
South Korea enjoyed a strong debut for local title Escape From Mogadishu, an action drama set against the events of the Somali Civil War.
The film tells the story of how staff from both the North Korea and South Korea embassies in Mogadishu came together to escape the conflict zone in 1991. Ryoo Seung-wan (The Battleship Island) directs, with a cast led by Kim Yoon-seok, Jo In-sung and Heo Joon-ho.
Escape From Mogadishu has opened with a five-day $10.4m, earning ninth place in the Comscore worldwide box office chart.