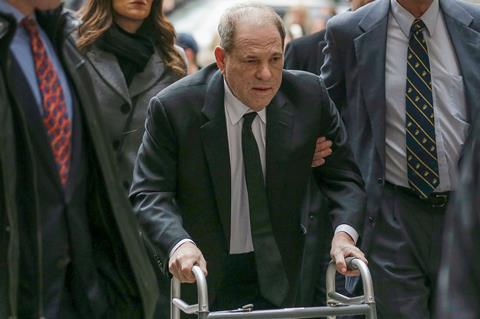 A jury of seven men and five women has been empaneled for the criminal trial of Harvey Weinstein in Manhattan after close to two weeks of legal argument between the prosecution and defence.
Hundreds of potential jurors have been scrutinised and on Friday (January 17) Justice James Burke urged the selected 12 (plus three alternates as back-up) to avoid any research into or communication about the case. It has been reported the jurors comprise an author, a lawyer, an accountant, and a security guard.
Both sides argued vehemently over the selections. Manhattan Assistant District Attorney Joan Illuzzi-Orbon, who leads the prosecution team, claimed the defence was seeking to discriminate against white women in its selection preferences because they might be seen as being less understanding of the defendant.
The jury includes two white women after the defence exhausted its 20 peremptory challenges. Each side is allotted 20 challenges to potential jurors.
Opening statements are expected to take place on Wednesday (January 22). Weinstein is charged with five counts including rape and predatory sexual assault against two women.
He has pleaded not guilty to the charges and has consistently denied any non-consensual sex.