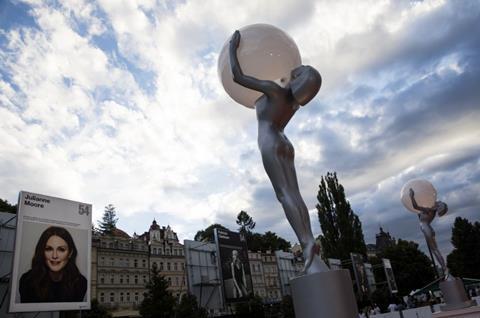 Karlovy Vary International Film Festival is debuting talent development programme KVIFF Talents at its 2022 edition; which will also host the Works-in-Progress platform of Ukraine's Odesa Film Festival.
KVIFF Talents is a year-round programme for emerging filmmakers from the Czech Republic and Slovakia, which will expand to Central and Eastern Europe in future editions.
Selected filmmakers will receive financing for development, expert mentoring, and the opportunity to present their projects to potential partners at the festival.
KVIFF Talents will run separately from the festival's Eastern Promises industry programme, which has previously housed talent development schemes. The 2022 edition of KVIFF will run from July 1-9 as an in-person event, returning to its regular mid-summer dates after last year's late August edition.
"Promoting new talent has always been a central part of the festival's activities," said KVIFF executive director Krystof Mucha. "With KVIFF Talents, we are taking these activities to a new level. The program will be another important piece of the puzzle promoting greater originality, creative boldness, and international ambitions by filmmakers from our region."
The 2022 festival will also host the Works-in-Progress platform of Ukraine's Odesa Film Festival (OIFF), as an act of "full support for Ukrainian filmmakers and festival organisers."
The programme, including screenings of works-in-progress projects, will be known as the OIFF WIP Selection, with details regarding applications to be announced in the coming weeks.
The 13th edition of Odesa Film Festival will take place from July 23-30. Earlier this month festival director Anna Machukh said that the format of the festival – including whether it runs in-person or online – "totally depends on the result of our army", and whether the war is still ongoing.
KVIFF honours
Karlovy Vary will honour Czech actor, writer and director Boleslav Polivka with the KVIFF President's Award.
Polivka won best actor at the Czech Lions – the country's primary film awards – for his role in Vladimir Michalek's Forgotten Light in 1996, and then again for Jan Hrebejk's Divided We Fall in 2000.
The festival will screen Forgotten Light as part of a tribute to Polivka.
It has also programmed a digitally-restored version of Jaromil Jires' 1968 Czechoslovak New Wave feature The Joke, based on the novel of the same name by Czech writer Milan Kundera.