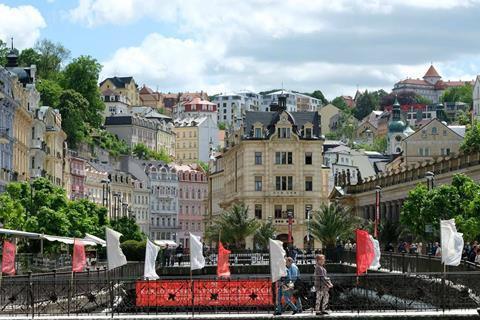 The Karlovy Vary International Film Festival (KVIFF) is moving ahead with plans to run a physical edition from July 2-10, despite Cannes revealing new dates that will clash.
The Cannes Film Festival announced on Wednesday that it would move its traditional dates from May to July 6-17, in a bid to distance itself from the ongoing Covid-19 pandemic.
But despite the crossover, the Czech Republic festival has stated it would only shift the dates of its 55th edition if it were to the benefit of its audience. Organisers also said that an easing of restrictions may encourage them to move six weeks into August.
In a joint statement, artistic director Karel Och and executive director Kryštof Mucha told Screen: "The satisfaction of our audience is the only element which would make us move our dates.
"Should there be a notable difference between early July and second half of August, regarding the allowed seat occupancy in the cinemas, we will seriously consider postponing.
"As far back as we can remember, the strong relationship of KVIFF and its audience has always made filmmakers happy to come to Karlovy Vary from around in the world. And a happy filmmaker has always been our goal."
Last year was the first since 1993 that the festival did not take place in the Czech spa town, after cancelling its usual July edition as a result of the pandemic.
KVIFF had planned a special four-day physical event in November, titled Karlovy Vary IFF 54 ½, but was also forced to cancel that event following a second spike in Covid-19 cases across the Czech Republic.
In 2019, KVIFF hosted nearly 500 screenings and drew more than 12,500 visitors.
Cinemas remain closed in the Czech Republic, where the government met yesterday (January 28) to introduce tighter measures and combat the spread of the virus. The new rules include limited contact between households, and recommend only meeting with immediate family. There have been more than 972,000 cases and 16,072 deaths from Covid-19 to date in the Czech Republic.