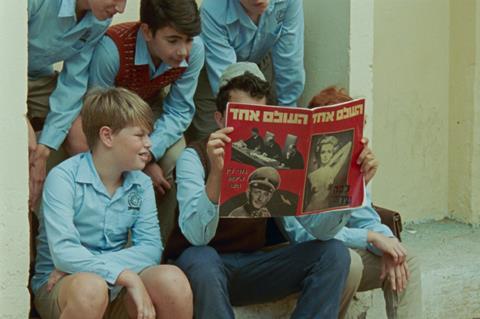 Karlovy Vary International Film Festival (KVIFF) has announced the line-up of 33 features for its 56th edition, which includes Jake Paltrow's Ukraine-shot Adolf Eichmann feature June Zero.
The Czech festival will take place from July 1-9 and the selection includes 27 world premieres, three international premieres and three European premieres.
Scroll down for full list of titles
The 12 titles in the Crystal Globe Competition are all world premieres, with the exception of Anna Kazejak's Fucking Bornholm; Sophie Linnenbaum's The Ordinaries; and Jonás Trueba's You Have To Come And See It – all international premieres.
Paltrow's June Zero will receive its world premiere as a special screening. The US-Israel co-production explores the infamous trial of Eichmann, the architect of the mass extermination of Jews during the Second World War. It was picked up for sales earlier this year by ICM Partners in North America and Films Boutique for the rest of the world.
KVIFF's new competition, Proxima, will make debut in this year's edition, replacing the long-running East of the West competition. Unlike it's predecessor, comprising features from Central and Eastern Europe as well as the Balkans, the competition is open to filmmakers from around the world.
"Proxima aims to be an inclusive space for pictures by young filmmakers and renowned auteurs alike, presenting bold works that defy categorization," according to a festival statement.
KVIFF artistic director Karel Och said: "From the 1,500 films that have been submitted this year, we have chosen 33 brand new works of cinema that offer the accurate reflection of our taste – a taste derived from a belief in a meaningful edginess and the championing of new means of cinematic expression that nonetheless do not stand in opposition to the audience's receptiveness and inclinations."
The festival, which takes place in a spa town in the west Bohemia region of the Czech Republic, will return as a fully in-person event following two years impacted by the Covid-19 pandemic.
On the industry side, the KVIFF Eastern Promises project showcase will be introduced in-person by invited producers and directors. However, excerpts of their work will be available online with facilitated Zoom meetings for those sales agents and festival that still cannot travel to attend the festival. Most panels and industry discussions will be available for catch-up on the festival's streaming platform.
Hugo Rosak, KVIFF's head of film industry office, told Screen: "We would like to first understand whether and to what extent it is possible to return to what things were like before and then readjust based on our experience. We see it as vital that producers and directors have access to the industry in-person - some connections are irreplaceable."
Karlovy Vary 2022 line-up
Crystal Globe Competition
America (Isr-Ger-Czech)
Dir. Ofir Raul Graizer
A Room Of My Own (Geo-Ger)
Dir. Ioseb "Soso" Bliadze
A Provincial Hospital (Bul-Ger)
Dirs. Ilian Metev, Ivan Chertov, Zlatina Teneva
Fucking Bornholm (Pol)
Dir. Anna Kazejak
Borders Of Love (Czech-Pol)
Dir. Tomasz Wiński
Silence 6-9 (Gre)
Dir. Christos Passalis
The Ordinaries (Ger)
Dir. Sophie Linnenbaum
The Word (Czech-Slovak-Pol)
Dir. Beata Parkanová
Summer With Hope (Can)
Dir. Sadaf Foroughi
You Have To Come And See It (Sp)
Dir. Jonás Trueba
A Far Shore (Jap)
Dir. Masaaki Kudo
Vesper (Lith-Fr-Bel)
Dir. Kristina Buožytė, Bruno Samper
Proxima Competition
And Then There Was Love… (Czech)
Dir. Šimon Holý
Horseplay (Arg)
Dir. Marco Berger
In Broad Daylight (Can)
Dir. Emmanuel Tardif
Like A Fish On The Moon (Iran)
Dir. Dornaz Hajiha
Fools (Pol-Rom-Ger)
Dir. Tomasz Wasilewski
Another Spring (Serb-Qat)
Dir. Mladen Kovačević
Piety (Sp-Arg)
Dir. Eduardo Casanova
Ramona (Sp)
Dir. Andrea Bagney
The Uncle (Cro-Serb)
Dir. David Kapac, Andrija Mardešić
Tinnitus (Bra)
Dir. Gregorio Graziosi
ART Talent Show (Czech)
Dir. Tomáš Bojar, Adéla Komrzý
Zoo Lock Down (Austria)
Dir. Andreas Horvath
Special Screenings
Banger. (Czech)
Dir. Adam Sedlák
June Zero (US-Isr)
Dir. Jake Paltrow
The Killing Of A Journalist (Den-US-Czech)
Dir. Matt Sarnecki
My Father, The Prince (Austria-Czech)
Dirs. Lukas Sturm, Lila Schwarzenberg
PSH: Back To The Days (Czech)
Dir. Štěpán FOK Vodrážka
Rubikon (Austria)
Dir. Magdalena Lauritsch
Big Opening (Czech)
Dir. Miroslav Krobot
You Won't Be Alone (Australia-UK-Serb)
Dir. Goran Stolevski
Like An Island (Switz)
Dir. Tizian Büchi