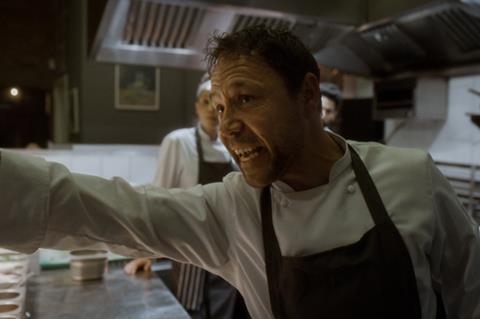 Philip Barantini's UK drama Boiling Point, starring Stephen Graham, and Dietrich Brüggemann's No are among the films making their world premiere in competition at this year's Karlovy Vary International Film Festival (August 20-28).
All 12 main competition titles are world premieres except Claudio Cupellini's Italian drama The Land of The Sons, which is an international premiere.
Scroll down for full list
Filmed in one take, Boiling Point sees Graham plays a stressed head chef on the busiest night of the year at one of London's top restaurants. Paris-based sales agent Charades recently closed a string of key distribution deals for the film.
Bruggemann's Nö follows a couple in their 30s, balancing child-rearing, fears of unemployment and their feelings for each other. Bruggemann's breakout feature Stations Of The Cross screened in competition at the Berlinale in 2014 and took home the Silver Bear for best screenplay. His previous film, Heil, competed at KVIFF in 2015.
Returning to the festival is Czech director Václav Kadrnka with his fourth feature, family drama Saving One Who Was Dead. It is about a woman and her son who have to deal with consequences when the husband and father falls into a coma. Kadrnka's Little Crusader won KVIFF's top prize, the Crystal Globe, in 2017.
Also returning is Slovenian filmmaker Olmo Omerzu with Bird Atlas, about the ageing proprietor of a technology company who had dedicated his whole life to his work and is dealt a blow when things start to fall apart. Omerzu won best director at KVIFF in 2018 with Winter Flies, which went on to be the Czech Republic's submission for the international Oscar.
From Canada, Nicolas Roy will premiere his feature debut Wars. Roy has previously worked as editor on Denis Cote's features including Berlinale award-winners Social Hygiene, Boris Without Beatrice and Vic + Flo Saw a Bear. Previously, his short Ce N'est Rien was selected for Cannes in 2011.
Documentaries will be folded into the main competitions for the first time this year and includes Czech film Every Single Minute, in which a couple bring up their son using a complex approach to develop his motor abilities and intellect. It is directed by Erika Hníková, whose Nesvatbov won a reader's jury prize at the Berlinale in 2011.
A further Czech documentary in competition is At Full Throttle by Miro Remo, who was previously at KVIFF in 2014 with Comeback and 2017 with Richard Muller: Nespoznany. Remo's latest follows an aging former miner who has always dreamt of a career as a race car driver.
KVIFF's East of the West competition – comprising first and second features from Central and Eastern Europe, and the Balkans – includes 12 titles, all world premieres
The line-up includes Andrius Blaževičius's Runner, in which a young woman searches the streets for her troubled boyfriend in a bid to prevent a tragedy. The lead role is taken by Lithuanian actress Žygimantė Elena Jakštaitė, who was selected for this year's Shooting Stars talent programme at the Berlinale.
Heading the Special Screenings selection is KVIFF's opening film, Zátopek, David Ondříček's Czech drama about four-time Olympic gold medallist Emil Zátopek – widely regarded as the most popular athlete in Czech Republic's history. The film will premiere on August 20 in Karlovy Vary's Hotel Thermal Grand Hall during the opening night gala.
The Special Screenings strand also includes Michaela Pavlátová's animated feature My Sunny Maad, which recently premiered in competition at Annecy International Film Festival and is handled by Paris-based company Totem Films.
This year's sole retrospective is a tribute to the work of The Film Foundation. Established in 1990 by Martin Scorsese, the organisation is dedicated to protecting and preserving films and has restored more than 900 classic works of cinema as well as lesser-known titles from around the world.
Ten titles have been selected including John Cassavetes' 1974 drama A Woman Under The Influence and Robert Downey Sr's 1969 feature Putney Swope, which was made at the height of the Black Power movement and is a scathing attack on the media's treatment of African-Americans.
KVIFF's non-competitive programmes will be announced two weeks before the festival begins.
After being forced to cancel last year's edition due to the pandemic, the festival is set to return with a physical edition in the Czech spa town from August 20-28, a month later than usual. However KVIFF Eastern Promises Industry Days will take place entirely online this year, from July 28 to August 12, with works in progress, works in development and first cut works set to receive awards worth a total of €115,000 ($137,000).
Crystal Globe Competition 2021
Bird Atlas (Czech-Slo-Slovak)
Dir Olmo Omerzu
Boiling Point (UK)
Dir Philip Barantini
The Exam (Ger-Iraq-Qat)
Dir Shawkat Amin Korki
Wars (Can)
Dir Nicolas Roy
Every Single Minute (Czech-Slovak)
Dir Erika Hníková (Czech)
At Full Throttle (Czech-Slovak)
Dir Miro Remo
Nö (Ger)
Dir Dietrich Brüggemann
Le Prince (Ger)
Dir Lisa Bierwirth
As Far As I Can Walk (Ser-Fr-Lux-Bul-Lith)
Dir Stefan Arsenijević
The Land Of The Sons (It)
Dir Claudio Cupellini (Italy)
The Staffroom (Cro)
Dir Sonja Tarokić
Saving One Who Was Dead (Czech-Slovak-Fr)
Dir Václav Kadrnka
East Of The West Competition
Dear Ones (Pol-Czech)
Dir Grzegorz Jaroszuk
Runner (Lith-Czech)
Dir Andrius Blaževičius
Intensive Life Unit (Czech)
Dir Adéla Komrzý
Roots (Ser)
Dir Tea Lukač
Wild Roots (Hun-Slovak)
Dir Hajni Kis
Two Ships (Czech-Nor)
Dir Jan Foukal
Nuuccha (Rus)
Dir Vladimir Munkuev
Otar's Death (Geo-Ger-Lith)
Dir Ioseb "Soso" Bliadze
Patchwork (Cyp-Isr-Slo)
Dir Petros Charalambous
After The Winter (Mont-Ser-Cro)
Dir Ivan Bakrač
Sisterhood (N Mac-Kos-Mont)
Dir Dina Duma
Mirrors In The Dark (Czech)
Dir Šimon Holý
Special Screenings
Roaring 20's (Fr)
Dir Elisabeth Vogler
Brighton 4th (Geo-Rus-Bul-US-Mon)
Dir Levan Koguashvili
My Sunny Maad (Czech-Fr-Slovak)
Dir Michaela Pavlátová
The Party and the Guests (Czech)
Dir Jan Němec
Suspicion (Czech-Fr)
Dir Michal Blaško
Reconstruction of Occupation (Czech-Slovak)
Dir Jan Šikl
Dreams About Stray Cats (Czech-US-Fr)
Dir David Sís
Zátopek (Czech)
Dir David Ondříček