EXCLUSIVE: US director Kevin Smith is at the Neuchâtel International Fantastic Film Festival (NIFFF), where he is subject of a special tribute.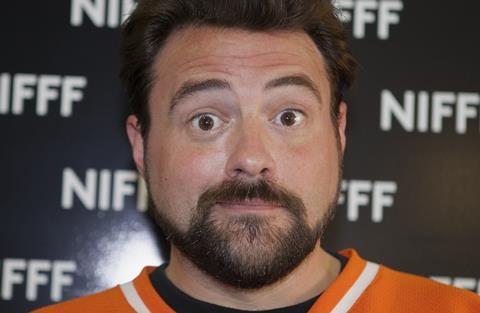 Smith, whose new $2.9m horror feature Tusk is set for release this autumn, has various other new film projects in development.
There is a spin-off to Tusk called Yoga-Hosers due to shoot later in the year. This is being backed by Starstream and Demarest.
"Like Tusk, [Yoga-Hosers] sprang out of a podcast," Smith told Screen.
"There are two characters in a convenience store in Tusk that you see for five minutes, very much Ronsencrantz and Guildenstern.
"I've built a whole movie around them and I have brought one of the other characters from Tusk back."
Tusk stars Haley Joel Osment, Justin Long, Genesis Rodriguez and Michael Parks. The story centres on a young man and woman who search the backwoods of Canada after their friend goes missing and make a horrific discovery.
The film was inspired by a classified ad in the UK taken out by a man looking for a lodger who stated: "To take on the position… you must be prepared to wear a walrus suit for approximately two hours each day."
Smith has taken the idea and given it a body-horror twist.
Meanwhile, Smith's Come To The Krampus (now known as the Anti-Claus) has already been pre-sold widely by XYZ. Smith describes it as "a Creepshow-like horror anthology" and it rounds out a trilogy of horror features from the director, which began with Red State.
Once that is done, Smith hopes finally to shoot the long gestating Clerks 3.
During the release of his feature Red State in 2011, Smith didn't hide his disillusionment with the film business - in particular, the extortionate cost of marketing movies - and even threatened to quit directing. Three years on, his stance has softened.
"I am definitely not going to retire," Smith added. "I am only going to make films that only I could ever make or would ever make."
Smith gave a masterclass at genre festival NIFFF (July 4-12) on Saturday and a retrospective of the director's works including Clerks, Chasing Amy and Dogma continues this week.
Smith was also invited to select films to screen at the festival and chose titles including A Man For All Seasons, The Dirties and animated feature Batman: The Dark Knight Returns.